Staying ahead of the curve is essential for our success in these rapidly evolving times. And the role of the CTO has never been more crucial. Rachit Lohani, Chief Technology and Product Officer, SVP (Engineering and Product) at Paylocity, in his presentation during the Glorium Technologies Startup CTO Summit, sheds light on the significance of actions CTOs must take and their impact on organizations.
Product Evolution
Each product in the company undergoes its evolution, which is typically divided into several stages and phases. "Harvard Business Review did long-running research where they connected with thousands of SMBs to figure out the stage of the evolution of a product or a company. What they found out was that there were certain traits that were unique to these stages, and there were five stages of any company. The other interesting part of this research, they focused on small and medium businesses where each of these companies had one product. But at the same time, we know the reality in the SaaS world, where the expectation from the investor is that on perpetual growth, all the companies or a lot of companies build an ecosystem versus committing to one product." Rachit Lohani mentions. In order to understand the actions a CTO should take under such conditions, we need to take a closer look at those lifecycle periods.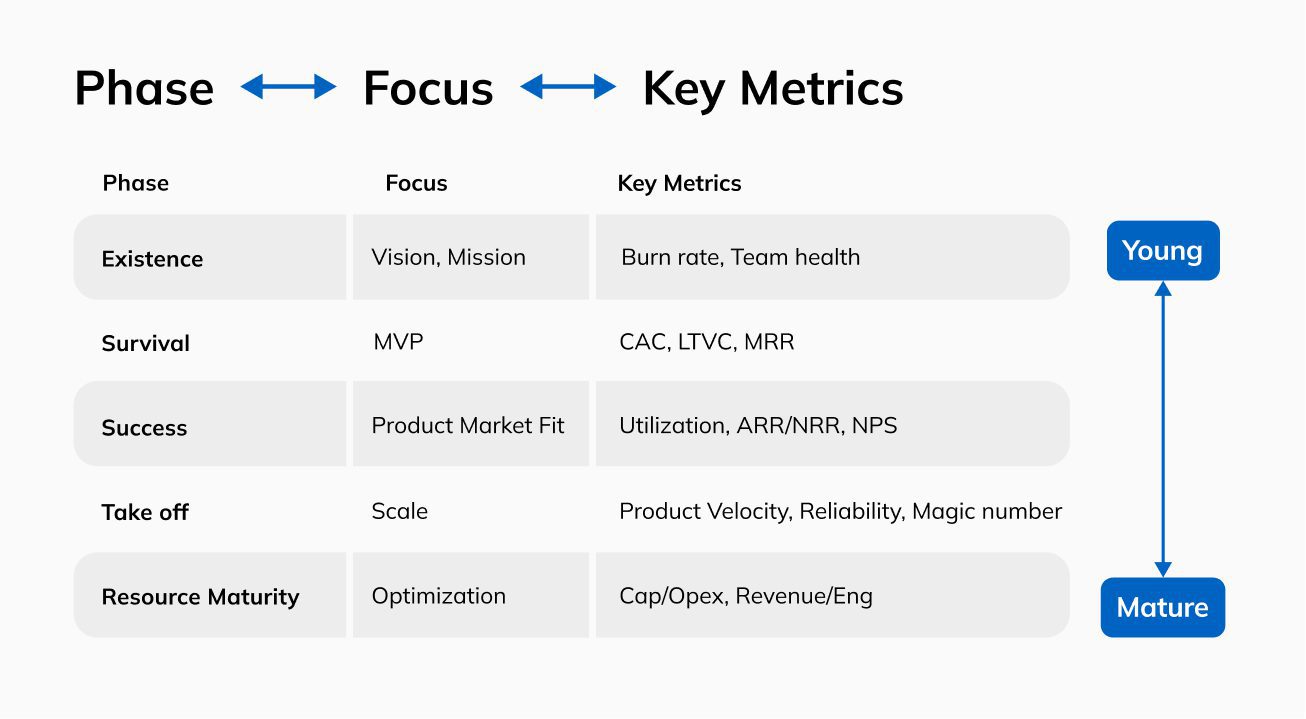 Existence
During the existence stage of your company, it is crucial to define its vision and mission. This is the time when your product is being born. You need to determine what purpose your product will serve and identify the problems it will solve. As you might have limited seed capital, it's essential to closely monitor your burn rate and ensure the well-being of your team. Hiring co-founders at this stage is critical as they will play a significant role in shaping the product. Therefore, attracting the right individuals becomes a deliberate and careful process, as their contributions will leave an indelible mark on the product.
But if we talk about phases, it's not about products but about people. And they are actually the same. During the existence phase, the company or individuals emphasize creativity as a primary focus. The goal is to attract and hire individuals who are passionate about creativity and thrive in ambiguous situations. These individuals are eager to brainstorm and generate ideas without constraints.
As a chief or leader, your role becomes that of a seasoned veteran, responsible for ensuring the company's and product's success. You establish the foundation by setting ground rules and discussing the future. This includes anticipating the challenges that may arise, envisioning what the future holds, and inspiring excitement among the team.
Survival
Once you have successfully launched an MVP (Minimal Viable Product), you enter the stage of engaging with your customers and conducting extensive experimentation. This involves understanding their pain points, identifying what resonates with them, and determining the essential features that need to be built. The MVP serves as the core functionality required to fulfill a specific task.
During this period, key metrics such as Customer Acquisition Cost (CAC), Customer Lifetime Value (LTV), and Monthly Recurring Revenue (MRR) play a crucial role. It is important to strike a deliberate balance between cash flow (expenditure) and customer acquisition while also considering the monthly fluctuations since churn can be high when operating with an MVP.
As a leader, your role undergoes a transformation. While in the existence phase, you were responsible for laying the foundational groundwork, in the survival phase, you are now tasked with providing frameworks and principles that guide your team in thinking about the direction effectively.
In Netflix terminology, this process is referred to as "paving the path." It involves establishing a clear and well-defined path for everyone to follow, ensuring they approach challenges and decision-making in a manner that leads to desirable outcomes. As a leader, you play a crucial role in providing the necessary guidance and direction to ensure the team's success in navigating the survival phase.
Success
As you progress to the next stage, which signifies success, you achieve this milestone by attaining a product-market fit. This term refers to the point where your customers truly appreciate and desire your fully developed product. Essentially, you have hit the jackpot – people are aware of your brand and understand the value you provide.
During this phase, certain key metrics come into focus. Firstly, utilization becomes crucial. How many individuals are actively using your product? Although they have made the purchase and are paying for it, it's essential to analyze how effectively they are utilizing it.
Another significant metric to consider is Annual Recurring Revenue (ARR) and Net Revenue Retention (NRR). These metrics provide a longer-term perspective on the financial flow. Are your customers remaining loyal to your product? If so, are they increasing their purchases? An increased buying behavior indicates a strong affinity towards your offering.
Lastly, Net Promoter Score (NPS) measures customer satisfaction with your services and offerings. It indicates whether your customers are genuinely content with their experiences.
In the success phase, you have achieved product-market fit and are experiencing rapid growth, leading to aggressive hiring or scaling of your business. During this phase, the focus shifts from providing direction to effective delegation.
As a leader, you empower and delegate to other leaders within your team. Your role transitions towards driving accountability and ownership. To ensure this, you establish rituals, meetings, and crucial conversations that need to take place. These structures and interactions foster a sense of accountability among team members and empower them to take ownership of outcomes.
By promoting accountability and ownership, you create a culture where individuals feel a strong sense of responsibility for their work and contribute to the overall success of the organization. This shift in focus allows you to leverage the capabilities and expertise of your team members while driving collective accountability toward achieving shared goals.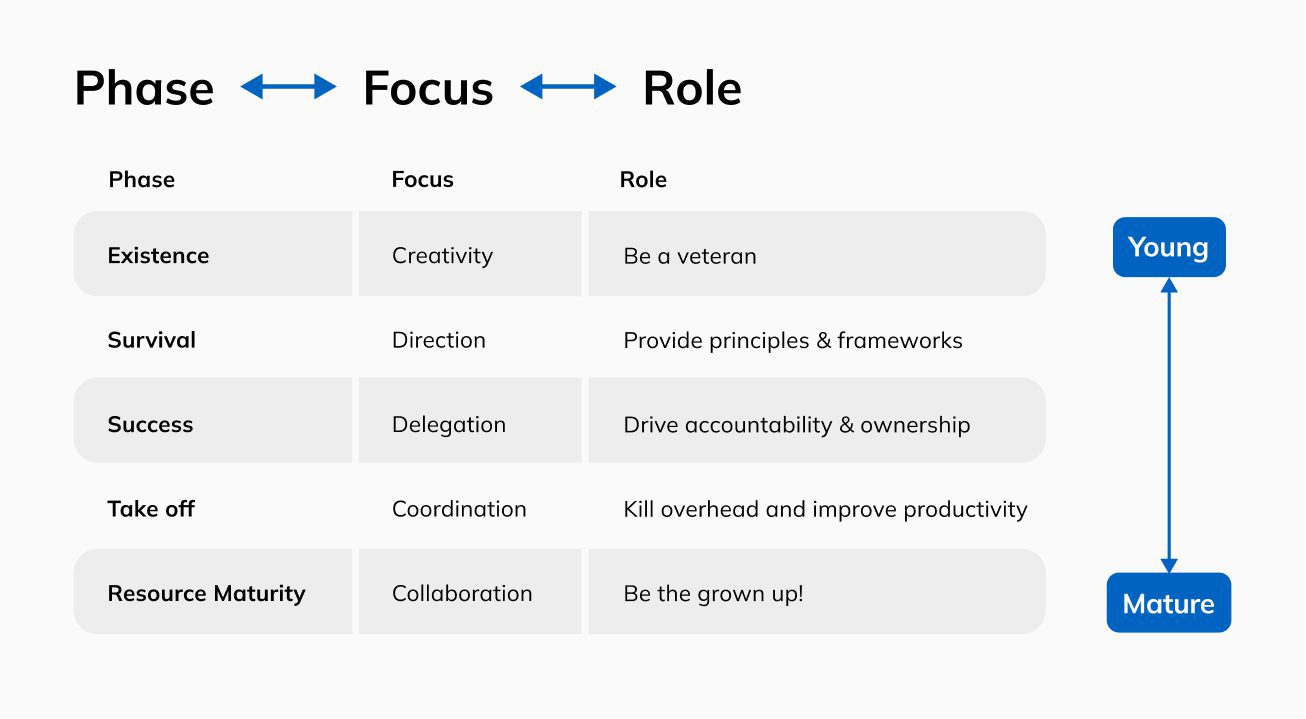 Takeoff
As you approach the final stage of success, you begin to experience what is known as the takeoff phase, where you encounter challenges related to scaling. Suddenly, there is a surge in demand, and everyone wants to be a part of your services. People are drawn to what you have to offer, and your growth becomes viral. At this point, the focus shifts from achieving product-market fit to achieving scale.
Conversations evolve from utilization metrics to product velocity, with questions arising for CTOs, heads of engineering, or heads of technology regarding how to increase speed. Considerations are made about hiring additional staff and implementing automation to drive efficiency. While these questions stem from a positive place, as your product takes off and you enter the scaling mode, you may experience occasional outages and face challenges that become the basis of memorable stories—stories of battles fought and scars earned during long nights.
This takeoff phase is characterized by a strong emphasis on optimization. The primary goals become releasing more features, maintaining reliability, and addressing concerns from the sales team about the magic number: how much is being invested in sales and marketing, and how many customers are being acquired.
During the takeoff stage, a collective effort is made by individuals to drive the product's scalability. Effective coordination becomes paramount as various departments, such as sales, marketing, engineering, and product, collaborate closely. The success of this endeavor hinges on the seamless collaboration of these organizations to ensure the smooth distribution and scaling of the product. Your role in this phase is particularly crucial as you are tasked with streamlining operations and eliminating unnecessary tasks. It is imperative to scrutinize the activities of the team, ensuring they are focused on the right objectives. Scaling is an arduous process that demands meticulous attention and effort. The takeoff stage, being the lengthiest phase, presents a significant challenge to all involved.
Overall, this phase represents a critical turning point where the focus shifts towards managing growth, optimizing processes, and maintaining a balance between feature development and reliability.
Resource Maturity
After the takeoff phase, where your brand has become widely recognized and well-liked, and you have achieved significant market penetration, you transition into a phase of stability and market leadership. At this point, hypergrowth subsides, and you focus on resource maturity and optimization.
During this stage, the conversations and key metrics shift from velocity to capital expenditure (capex) and operating expenditure (opex). You begin to analyze your revenue-to-engineering ratio, evaluating how efficiently resources are allocated. The focus shifts towards understanding where your teams are investing their time and effort. It becomes crucial to explore avenues for improved coordination and collaboration, maximizing the productivity and effectiveness of your workforce.
After reaching a plateau and achieving stability, your focus undergoes a shift, and you assume the role of the responsible decision-maker. You start to confront challenging questions concerning finances and resource allocation. Every detail becomes an opportunity for optimization because you understand that the bottom line or APDOT (acceleration of product development and organizational transformation) truly matters.
With a clear grasp of business stages and phases, it's time to explore how to effectively utilize them. On the initial slide, we mentioned that the role of the CPL (Company Product Leader) entails a harmonious integration of both the stage and the phase. When entering an organization, they may not explicitly disclose their current stage or phase. It is your responsibility to assess and determine their position. Where does the product stand? Where is the company positioned? Based on this assessment, your role and expectations will adapt accordingly, enabling you to navigate the situation effectively.
This phase represents a period of consolidating your position as a market leader. Instead of chasing rapid growth, you prioritize refining processes, leveraging resources efficiently, and seeking opportunities for enhanced coordination and collaboration within your organization.
The Five Pillars of the CTO Role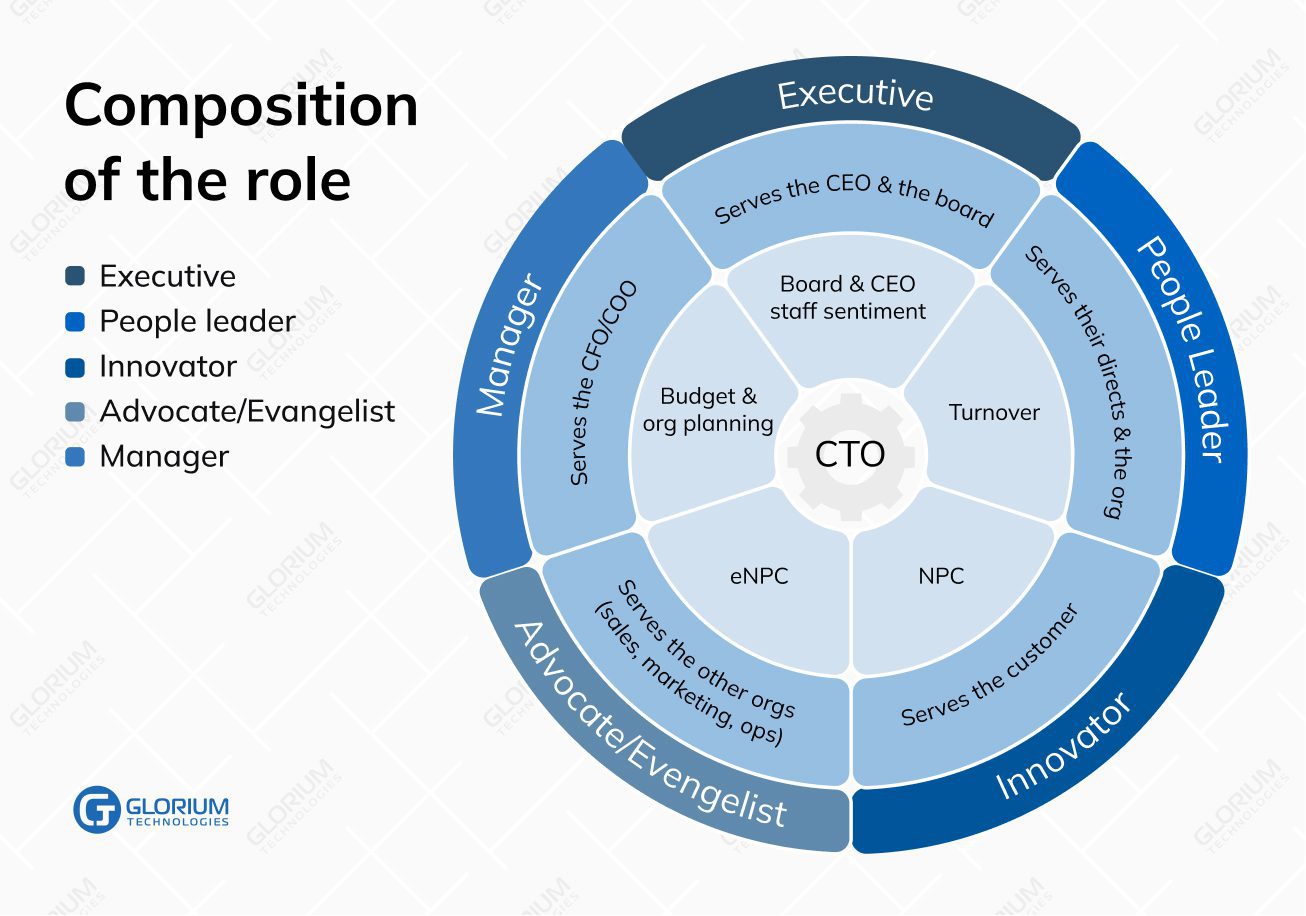 What should CTOs concentrate on, and how can they contribute to the product's success during each stage? Rachit Lohani outlines the five key pillars of the CTO role, emphasizing the diverse responsibilities and areas of focus:
Executive
Serving investors, the board, and the CEO by providing clarity, a clear roadmap, and addressing their concerns and expectations.
People Leadership
Building a collaborative and empowered team that is aligned with the company's vision and mission, ensuring clarity of roles, and fostering a positive work environment.
Innovator
Creating an environment conducive to innovation, understanding customer pain points, and developing solutions that exceed their expectations.
Evangelist
Acting as the face of the technology department, connecting with customers, and advocating for the value and benefits of the organization's products and services.
Technologist
Embracing technological advancements, staying updated with emerging trends, and leveraging the right tools and strategies to drive organizational growth.
In conclusion, the significance of a CTO's contribution throughout the various stages of a product's growth cannot be overstated. The CTO plays a pivotal role in connecting numerous crucial elements in this intricate chain of development. The choices and actions undertaken by the CTO during these challenging and uncertain times hold immense weight and influence. Thus, being entrusted with the responsibility of overseeing not only the technological aspects but also the people involved in creating and advancing the product is a tremendous responsibility. The CTO's role extends far beyond technology and encompasses the vital task of nurturing and guiding the team towards success.