Slowly but surely, the healthcare industry has been embracing digital transformation, steadily adopting more and more tech innovations for the sake of better medical services and more reliable outcomes. A crucial factor of this transformation involves the mass migration to cloud services and the utilization of cloud computing. While there are many concerns regarding implementation, the security of sensitive data, and legal compliance, the benefits of cloud computing significantly outweigh the risks. In fact, according to statistics from Black Book Market Research, the healthcare cloud adoption rate currently sits at a staggering 74%.
Launching its digital transformation into the stratosphere, 2020 was a defining year for the healthcare industry. Many factors have contributed to the acceleration of cloud migration, including COVID-19, the rising cost of healthcare services, and other economical factors. In fact, cloud computing (in the healthcare market) is expected to grow by $55 billion by 2025.  Presently, having a robust and integrated cloud infrastructure is no longer optional for healthcare organizations — it's mandatory. As more and more patient data is accumulated, medical facilities need a network that easily collects, shares, and distributes this information safely and effectively.
Why are Healthcare Companies Moving to the Cloud?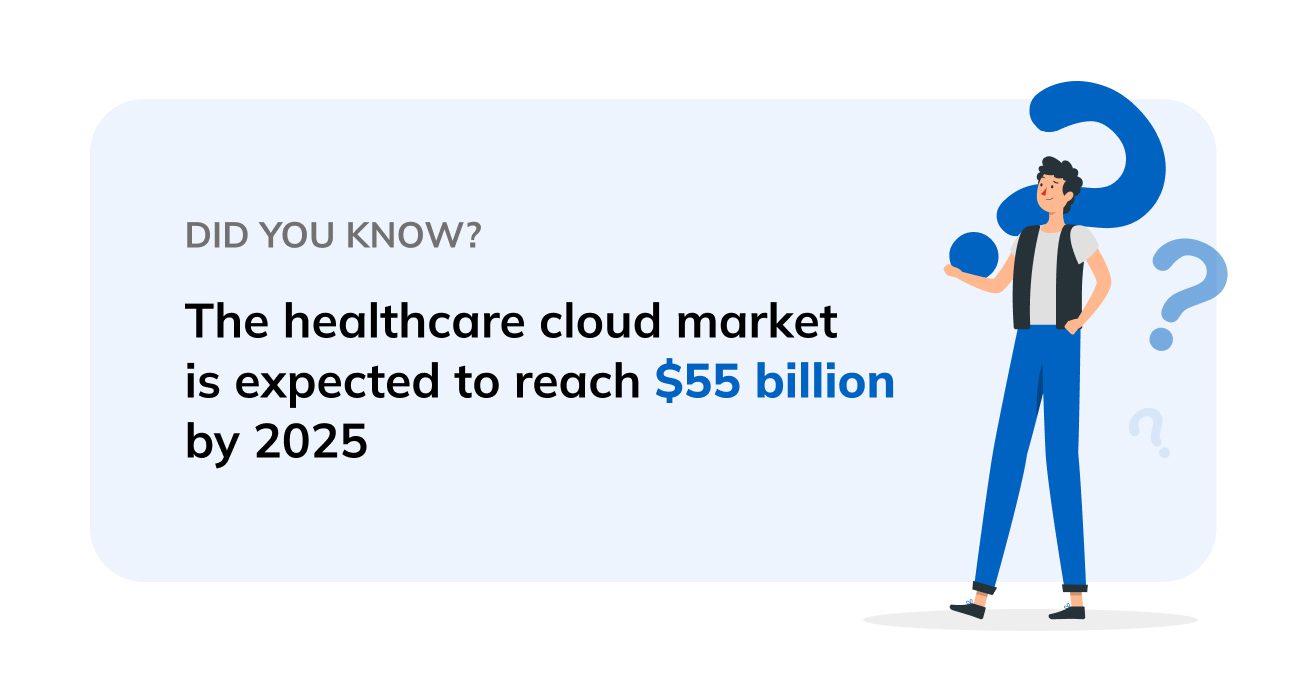 When it comes to managing data, the healthcare industry is one of the more complex cases. Year after year, it serves more people and integrates with more software services; all of which lead to a complicated and intricate network of systems. Considering the fact that medical information and personal health records are among the most sensitive and valuable types of data, properly managing and protecting them is a challenge.
Cloud systems enable much-needed interoperability between disparate data sources and software systems. Cloud infrastructure provides integration and access which makes collecting and sharing data a quick and seamless experience for medical professionals. Now, clinicians can easily get the information they need from any device without sacrificing valuable time and effort. Most importantly, cloud computing provides data centralization.
The global pandemic acted as a catalyst, pushing the healthcare industry to shift toward the cloud. Firstly, the majority of medical services have gone online which has led to a need for proper digital data workflows. In addition, cloud infrastructure facilitates the process of enabling telehealth, telemedicine, integrations with EHRs, EMRs, and medical billing systems.
Types of Cloud Computing in Healthcare
In healthcare, cloud computing in terms of services is divided into four types:
SaaS — Software as a service. In this case, the service provider gives the possibility to host the program and provides users with access to it via the Internet. An example of such a service format would be EHR – Electronic Health Record.
PaaS — Platform as a Service. In this case, cloud service clients have access to development tools. They can create and deploy any software the clinic needs on their own.
IaaS — Infrastructure as a Service. Servers, network components, hardware, and storage are transferred to clients for use on a paid basis. Provider owns all of the equipment. IaaS is often used for research in the making of new drugs.
Depending on how their use is organized, there are five models of cloud deployment:
Private Cloud — сloud storage capabilities are used exclusively by one organization. As an example, a specific clinic.
Community cloud — available for several organizations connected to the same field of activity. For example, several medical institutions in the same locality can use the community cloud.
Public cloud — provider gives access to the software and storage on a paid basis. Charging is made for the resources actually used.
Hybrid cloud — infrastructure contains several clouds of any type (private, public, or community), making it possible to migrate software between them seamlessly.
Multi-cloud — a combination of two or more clouds from different providers. This reduces the risks of cooperation with them but complicates cloud management.
Examples of the use of different types of clouds in the medical field:
Pharmaceutical company AstraZeneca, together with its partner Oxford University, used cloud technology to develop a vaccine for Covid-19. Компания пользовалась услугами 4 провайдеров: AWS, Microsoft Azure, Google Cloud Platform и Alibaba. The company used four providers: AWS, Microsoft Azure, Google Cloud Platform, and Alibaba. The partners used AZ Cloud, a hybrid multi-cloud environment along with public clouds.
Pfizer company teamed up with Amazon Web Services' commercial public cloud to develop cloud-based solutions to accelerate the creation of new drugs, their clinical trial, and their launch to market.
Chemical Corporation 3M, a healthcare company, decided to go to the cloud to improve the safety of its operations and better manage its business processes. Microsoft Azure public cloud was used to implement the idea.
The different capabilities of each type of cloud computing listed above allow them to be used for various tasks in the medical field.
Points of Contact Between Cloud Computing and Healthcare
Cloud computing lets modern healthcare facilities keep up with the times and meet the growing needs of clinicians and patients. Modern healthcare uses the latest technology that would be impossible to implement without moving to the cloud.
Effective Diagnostics
Artificial Intelligence and Machine Learning technologies that are increasingly being used in medicine and implemented in the cloud are helping physicians diagnose up to 6% more accurately. This is evidenced by the results of the study "Improving the accuracy of medical diagnosis with causal machine learning".
As an example of such apps, consider IBM's Watson Oncology. The system is able to develop several treatment options for a patient, considering all their diseases and the medications they are taking.
Storing medical records
Digitizing medical records opens up new possibilities for doctors. Easy access to patient information and data exchange between specialists enables seamless transfer of patient records from one doctor to another and simplifies consultations with other specialists.
Patient data is stored in three formats:
Electronic Health Record (EHR) — contains data on all problems with health and is used to improve the quality of health care services.
Electronic Medical Record (EMR) — stores information from a specific area of medicine (e.g., surgery) and is a digital history of a particular patient in a particular institution.
Personal Health Record (PHR) — contains information that the patient provides.
Discovering new drugs
The analysis of millions of chemical compounds in searching for new drugs requires enormous computing power. This can be provided by cloud computing.
An example of such software is Alibaba Cloud's E-HPC supercomputer product. The supercomputer allows pharmaceutical companies to create a high-performance cloud environment, increasing the available volume and pace of processed information.
Cloud knowledge libraries
The opportunity for ongoing online learning without the need for long and costly business trips is another opportunity that moving to a cloud offers. Large file storage and multilingualism ensure that both medical students and experienced researchers from any country can find here the materials they need.
One such solution is the Healthcare & Life Sciences content library from the Google Cloud. Here you can learn about cutting-edge developments, the latest trends, and important discoveries in various health care areas.
Self-care
Patients are not always under the supervision of medical personnel. For example, in cases of chronic illness, patients may require constant care but spend most of their time away from the clinic. In such situations, cloud-based solutions are essential.
Apps based on AI and ME deployed in the cloud help medical professionals monitor patients' condition by collecting data from their smart devices. As for patients, they advise them on the care of elderly and disabled relatives, help them plan visits to the doctor and maintain a healthy lifestyle.
A great example of such software is TeleHealth Services' iCare Navigator, an interactive platform for patient interaction. The resource not only helps you monitor your health by reminding you of your scheduled doctor's appointments but also provides legal support and assistance in getting insurance.
Predicting epidemics
The power of cloud computing is more than enough to analyze large amounts of data related to the epidemiological situation, the probability of disease spread, the predictions of its progression, and the cost of treatment.
Such solutions became widespread in 2020, the year when the Covid-19 pandemic peaked. For example, Alibaba Cloud introduced the Epidemic Prediction Technology solution. It can be used to predict the spread of Covid-19, assess the effectiveness of preventive measures, and monitor the epidemic's progress.
Business Process Management (BPM)
The automation of routine activities, made possible by the transition of medical facilities to the cloud, allows doctors to focus on care. And filling out reports, scheduling patient visits, making appointments, and other routine tasks can be entrusted to "smart" apps deployed in the cloud.
IBM proposed its own solution to improve operations efficiency. It is called IBM Business Process Manager and can be used in any sphere where it is necessary to optimize internal processes, including medicine.
Benefits of Cloud Computing in Healthcare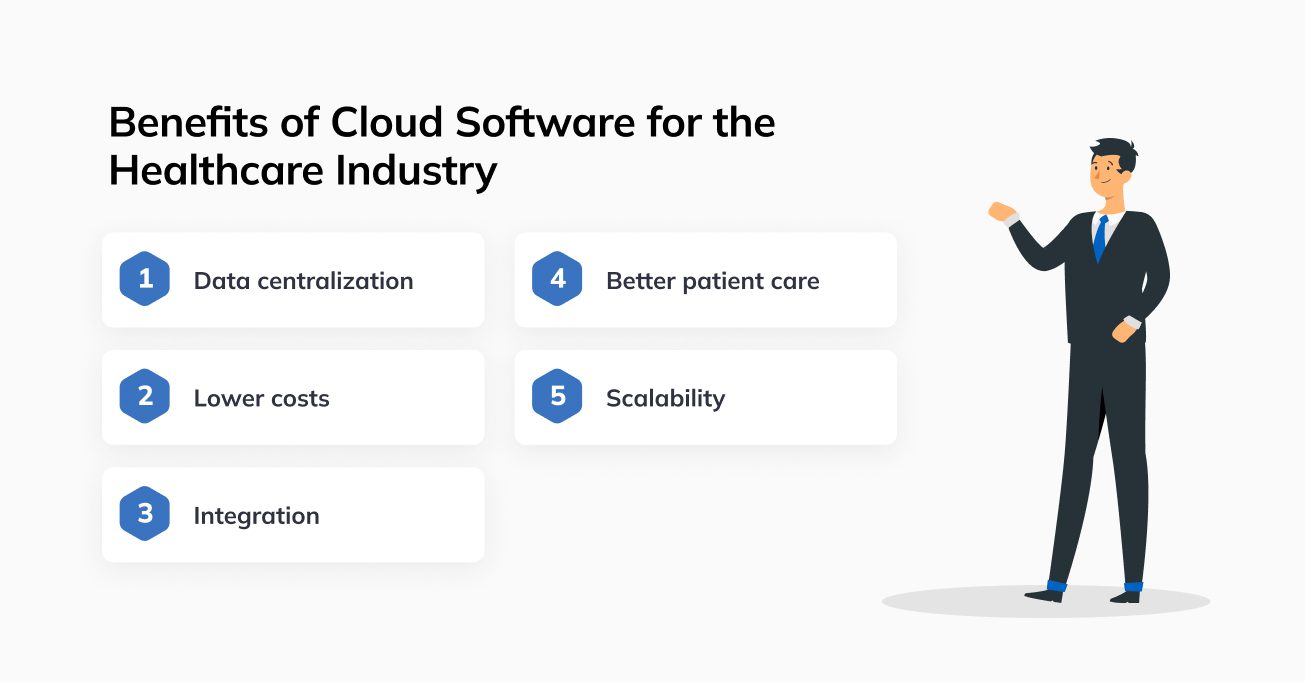 Data centralization & access
Thanks to its integration capabilities, with cloud computing, patient records and related data remain centralized — all in one place. This has significantly simplified the process of diagnosing and prescribing treatments and has led to a positive impact on patient health. Furthermore, having access to various types of data has reduced costs relating to time and labor as clinicians now have the time to focus on treatment rather than administrative tasks.
Integration
Cloud computing in healthcare not only unifies information but also enables integration with multiple systems. This reduces the need for a healthcare company to maintain various on-premises systems and establish necessary safety protocols. In the cloud environment, users are able to streamline processes in real-time and gather insights from analytics.
Lower costs
It's no secret that in-house and on-premises data systems consume plenty of resources. Cloud systems provide healthcare companies with additional flexibility regarding costs as an organization only has to pay for the services it uses. There are no additional in-house IT resources needed to maintain a cloud environment and it's easy to switch platforms if necessary.
Ultimately, cloud computing results in increased savings as it facilitates the administrative workforce, eliminates unnecessary manual labor, and allows doctors to provide better patient care.
Better medical outcomes
Ideally, the more data from various sources we have access to, the more insight into the required treatment we have. With tools like artificial intelligence, predictive analytics, and more, cloud infrastructure itself provides us with multi-angled and tech-enabled diagnostics. Clinicians can now get a much clearer picture of disease and look into historical data to assess a patient's medical background accurately.
For example, based on AI technology, the Clinical decision support system (CDSS) allows doctors to make a diagnosis by comparing data from the patient's history and the results of studies. The implementation of the system is possible through the use of cloud computing.
Scalability
As it's completely scalable, cloud infrastructure enables healthcare companies to grow and evolve. Whenever a new software system is added or the volume of users grows, cloud computing simply adjusts the data environment and adapts. Whereas the development of your own local solutions requires an independent increase in the possible amount of data storage. And, thus, regular investments in additional development.
New possibilities for big data processing programs
The medical histories of numerous patients contain information that can be useful not only for treating a particular patient but also for preventing epidemics, predicting the effectiveness of treatment for certain diseases, and identifying the connection between various health problems.
Before the transition to the cloud, it was impossible to use data stored in physical files – studying a huge amount of paperwork would have taken an unacceptable amount of time, which is lacking – especially for practicing physicians.
The transition to the cloud in healthcare allows large volumes of data to be processed in a small amount of time. This is made possible through sophisticated computer algorithms. All data is subjected to in-depth analysis, the results of which show potential threats to public health – the likelihood of mass infectious and non-infectious diseases, the resistance of various population groups to them, the impact of environmental pollution, refusal to vaccinate, and so on.
Improving self-care
The Internet of Things is a technology that allows medical staff to use smart devices to collect health information about their patients outside the facility. Such devices include heart rate, glucose levels, or blood pressure sensors.
Cloud-based services enable physicians to receive information from such devices, thereby improving the patient care quality and preventing exacerbations and complications. Analysis of these data allows adjustments to be made to improve the treatment effectiveness.
Security of data storage
Doubts about the security of patient data are a fairly common reason why healthcare facilities refuse to move to the cloud. Of course, some risks of confidential data leaks exist, but we will talk about that later. For now, it is worth comparing cloud data storage to physical file cabinets and local servers.
Damage to paper records leads to irretrievable data loss. The reliability of data storage on a local server is also questionable – the increased probability of viruses and unauthorized access makes the system vulnerable. And to restore the destroyed data, the involvement of specialists, additional time, and financial expenses are required.
Challenges of Cloud Computing in the Healthcare Sector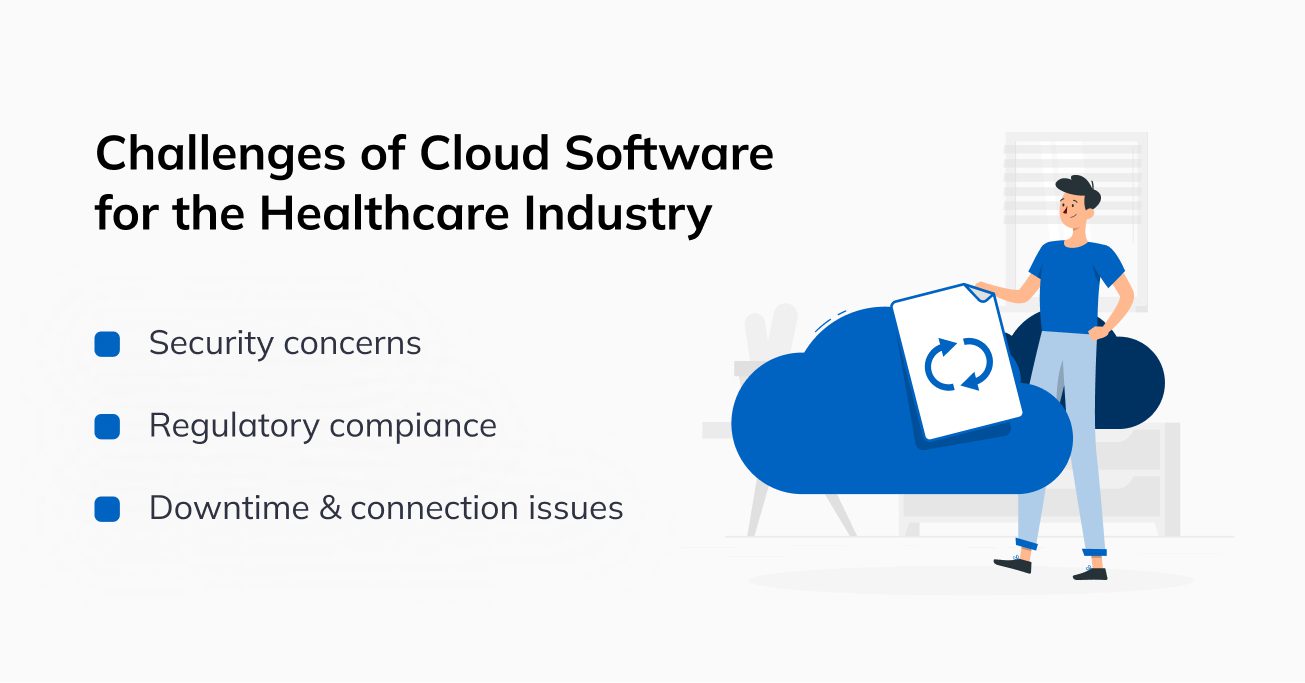 Security & compliance issues
Data security and regulatory compliance have been a primary concern that has traditionally held the healthcare industry back from proactively moving to the cloud environment. As medical data is extremely sensitive and the consequences of a data breach can be devastating, this concern is completely understandable.
The data in the cloud is shared between multiple parties; if handled improperly, it involves certain security risks. With the right development partner and strict security procedures in place, healthcare organizations can avoid security concerns.
Best practices to ensure cloud security:
Regular security audits
AI and ML for security
Risk management strategy
Regular employee training
Data encryption
Strict user access policies
Complex authentication and authorization
Software updates
Read more about healthcare software security in our recent blog. 
Choosing a trusted software provider greatly increases confidence in data protection. It is also important to regularly train medical staff and create a security strategy to avoid potential errors. At the end of the day, all of these challenges can be successfully eliminated with the help of a reputable software provider and staff diligence. Remember, a cloud service provider should be compliant with key industry regulations like HIPAA, HITECH, GDPR, etc.
Downtime
Another challenge for the healthcare industry regarding the implementation of a cloud system relates to the amount of downtime experienced while migrating and transporting data due to Internet connection disruptions. It is important to remember that the slight probability of such an issue exists regarding all types of cloud solutions both in and outside of the healthcare industry. Still, there are some practices that healthcare companies can apply to minimize the chances of downtime.
How to avoid downtime?
Use a hybrid or multi-cloud environment model to avoid relying on a single cloud provider. This way, your data infrastructure will remain safe, saved on other cloud services should one of the systems go down.
Be sure to thoroughly check the network connection capabilities and use network segmentation. Use a scalable network configuration to limit the probability of connection issues.
Staffing challenges
Since the introduction of cloud technology in medicine is still in its development stage, there are not yet enough specialists on the market with relevant experience. When choosing a service provider, we recommend paying attention to successful company cases – it is better to entrust the deployment of an app in the cloud to developers who have already worked with software for medical institutions.
Healthcare Software Development with Glorium
The healthcare industry is evolving and expanding faster than ever; as such, cloud solutions are imperative. Considering how quickly healthcare companies are switching to the cloud, the digitalization of data infrastructure has become a promising and rapidly growing niche. As the latest trends predict, software providers that build cloud solutions focusing on security, integration, and personalization will have a competitive advantage in the health tech market.
Having a reliable software development partner by your side is the first step to building a successful solution. With more than 10 years of industry expertise, Glorium assists startups, helping them get to market quickly and stay ahead of the competition with superior service and tailored solutions. By nurturing your ideas from concept to launch, our dedicated team helps bring your ideas to life. Learn more about our healthcare software and application development solutions today.
FAQ