We're getting used to digital services in different fields, and healthcare is no exception. Statista reports project the revenue in the global digital health market to reach US$145.80 billion in 2022. It expects this revenue to rise at an 11.94% rate annually, resulting in a projected market volume of US$256.30 billion by 2027. COVID-19 was one of the central drivers for the industry going online.
And, of course, the demand for various medical software will rise. The growing mobile phone and internet markets are opening a wealth of opportunities for healthcare IT solutions. Already, Data Report January 2022 estimates that nearly 5 billion people on the planet have access to both a smartphone and the internet – allowing them to take advantage of innovative digital options in their healthcare journey.
Let us look closely at the types of medical software driving further industry transformation.
Each physician has a lot of paper charts and documents on their table. But all of that was digitized and stored in electronic databases. The information in electronic medical records (EMR) contains the medical and treatment history of the patients in one practice. It allows doctors to save time by gaining some data from the past and monitoring the dynamics of the disease, bolstering care outcomes. However, all this info usually remains inside the practice. And that is the main difference with electronic health records (EHR).
Unlike EMR, Electronic Health Records (EHRs) provide an in-depth view of a patient's overall health, taking into account data gathered by various medical professionals. Through sharing information between healthcare organizations, EHRs allow access to up-to-date resources, not just from the original provider but also from specialists and laboratories involved in the patient's care – ultimately providing holistic treatment for each individual. This solution usually integrates with the clinics or hospital management software.
According to the Allied Market Research report, the global telemedicine market valued at $40.21 billion in 2020 may reach $431.8 billion by 2030. One of the main drivers was COVID-19 when face-to-face meetings with physicians became unavailable. Modern solutions may contain features like video conferencing, data transfer interface (for instance, test results), and payment options. Some products also include appointment systems. And the patient data is safely kept in cloud-based storage.
These products are rather popular among people who practice diets and want to control their weight. Software solutions allow them to count the consumed vs. burnt calories precisely. Fitness apps are also quite common for those who attend gyms. Also, cycling fans often use such apps to measure distance and effort.
Some digital solutions in this field connect to the devices people use. Wearable devices – like sleep-tracking wristbands, jewelry-like sensors, glucometers, and thermometers – can now connect to specialized apps that provide detailed insights into activity levels throughout the day.
Hospital management systems help run the complex operations of a hospital, empowering administrators to manage resources and tasks effectively while offering patients an accessible platform for booking appointments with specialists. This comprehensive system allows maximum efficiency as it contains customized portals tailored for each of the constituents. Among these services are managing schedules and appointments, bookings, and inventories to tracking expenses like utilities or laundry costs.
6. Medical Diagnosis Software
To provide the most accurate and timely care, doctors today can access incredible medical diagnosis software. Often this software utilizes AI technology to analyze patient data for probable diagnoses effectively.
Additionally, in light of recent events such as COVID-19, individuals have been turning towards medical apps that allow them quickly check their symptoms from home – ensuring they get proper treatment if necessary or need to go to the hospital.
Here two main versions are available: software for patients and physicians. But at the same time, they are connected. For instance, people may fill out questionnaires or interact with chatbots and get a possible diagnosis based on AI analysis of the data provided. On the other hand, such products enable information exchange between healthcare professionals to fill gaps and identify diseases using AI-based technologies.
To bill payers correctly, any healthcare business, including medical equipment suppliers, must consider many specific points. For one, patients can pay themselves or be insured and get coverage. Both healthcare and equipment providers must fill their claims correctly using the correct coding; otherwise, the documents can be rejected or denied. The accurate processing demands time and effort to get reimbursement on time and not lose revenue. The medical billing software allows streamlining processing and minimizes the errors caused by human factors.
This technology aims to process the results of MRI, CT, or PET; even build 3D models of the organs for diagnosis. This software combines technology and medical science, allowing physicians to design intricate equipment or body parts like artificial limbs and coronary stents. Another function of this software is archiving and transferring images from one place to another. The technology is called PACS (Picture Archiving and Communication System) and allows healthcare organizations to easily access data stored on special PACS servers and adapt it for different screens for comfortable viewing. It also provides convenient reporting templates for radiologists and makes the flow faster.
All the data must be accurate and compliant with all regulations. That is why Digital Imaging and Communications in Medicine (DICOM) standard is applied. DICOM system encodes complex medical images into a single file. After the transfer, through the header information and its binary 0s and 1s code system, data become legible again. Then meaningful visuals can be used by healthcare professionals for advanced analysis.
Medical equipment suppliers also need to automate their operations to get better results. Usually, home or durable medical equipment software includes such features as patient eligibility checks, billing, inventory management (to avoid out-of-stock cases), also reporting and analytics tools, and a delivery app for tracking the order status and location.
10. Medical Research Software
Medical research software helps to ensure quality care by enabling medical professionals to stay well-informed with the latest advancements in their field. From training new health practitioners to providing diagnostic support for rare conditions – this cutting-edge technology ensures every patient receives top-level attention and expertise.
11. Electronic Prescriptions
E-prescription software takes advantage of government regulations to ensure safe and speedy prescriptions for patients. Doctors can create new recipes, monitor their history, and renew or cancel them as needed. It makes the system more efficient on both sides. Some places enable contact with the patient's chosen pharmacy – saving time while guaranteeing medication compatibility and safety beyond what traditional paper prescriptions would allow.
If a patient treated at home needs constant medical control, physicians often use remote patient monitoring systems. Medical devices like heart rate and blood pressure monitors, glucose and blood oxygen meters, and wearable ECG monitors may collect data while software solutions process and transfer it to the servers that doctors can access. Depending on the type, those systems can set possible diagnoses depending on the information they receive. They can also alert medical experts in case a patient needs urgent help.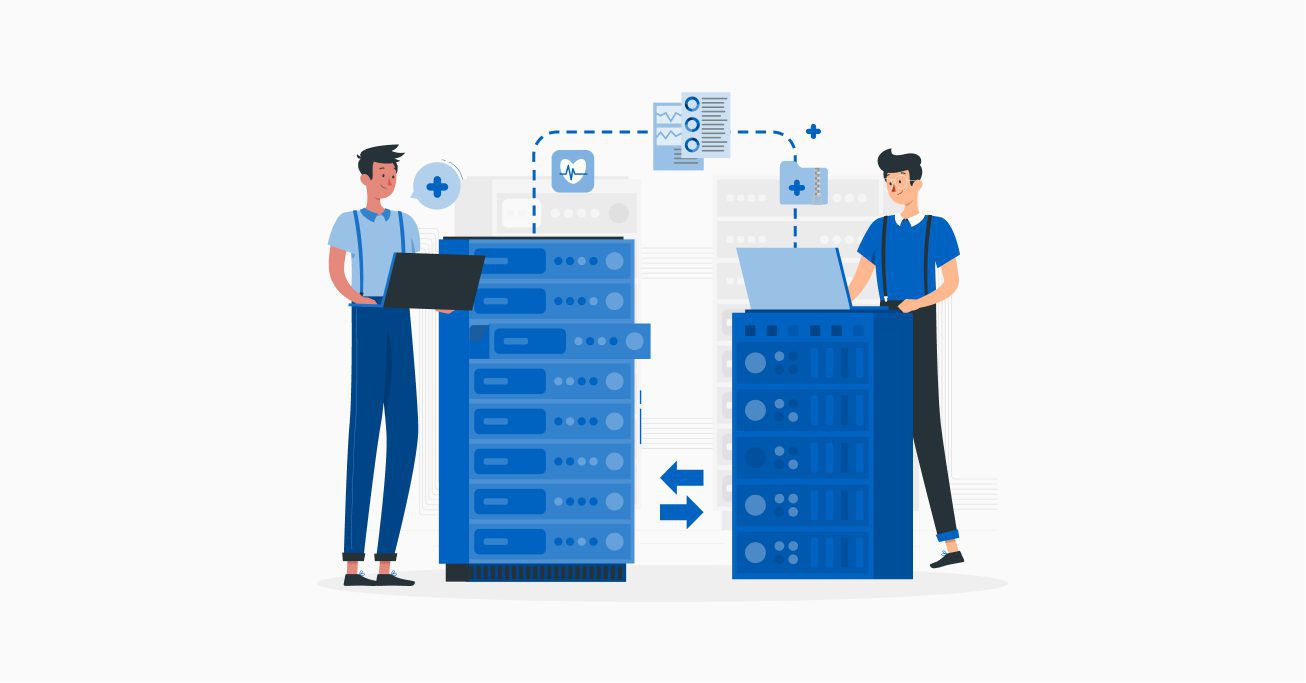 New systems need to integrate seamlessly to enable effective data transfer. That is where healthcare information exchange (HEI) solutions come into play. By enabling intricate exchanges between Electronic Health Records (EHRs), Electronic Medical Records (EMRs), Laboratory Information Systems, Health-Info Systems, and Practice Management Systems, HIE facilitates streamlined workflow systems across various healthcare facilities.
Patients are now able to be more involved with their healthcare in an interactive, convenient manner through the use of patient portals. These web-based solutions offer a broad range of options. Among these options are scheduling appointments and chatting directly (or via chatbot) with physicians. These portals also give access to educational resources to help one better understand their overall health status. Patients no longer have to rely solely on face-to-face contact for answers about medical matters; instead, they can now actively participate, monitoring and advancing their well-being without ever leaving home!
The pharmaceutical industry also uses software solutions to increase efficiency. Such systems may include the features like RPh check, count que, and final product check. In retail networks, market players apply some tools for better interaction with their patients, like auto refills and refill management.
16. Urgent care
Urgent care software and electronic solutions allow patients to receive emergency aid and medical help without attending the doctor's office and arriving at the hospital. Mobile apps, chatbots, and wearable devices targeted at helping patients right on the spot represent this category.
17. Healthcare CRM Software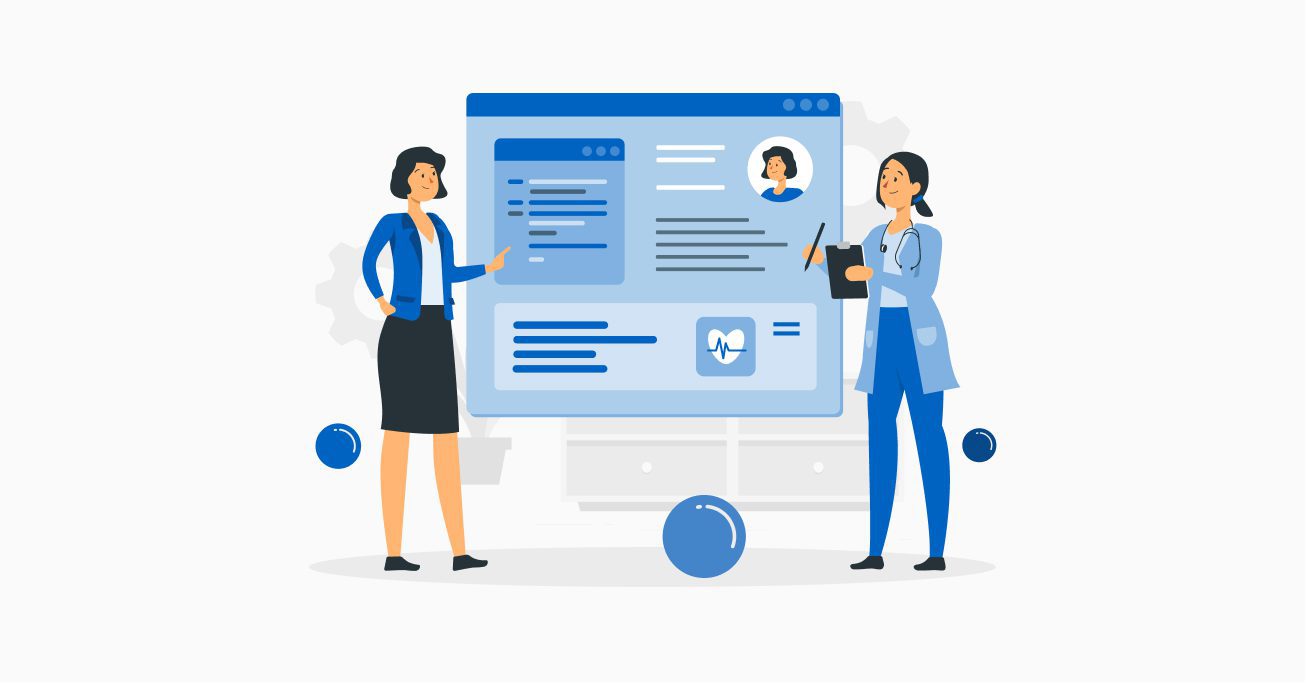 CRM software applies to all categories of businesses, and healthcare is no exception. Think of it as a database of all your customers that performs the marketing tasks of keeping up the communication, nurturing the relationship, and keeping your clients in the funnel of your medical business. CRMs not only hold the patient's data, but it also helps remind customers about booking visits and automate administrative tasks. It can gather feedback and track the patients' satisfaction rate allowing you to fine-tune customer service and reach better business results.
18. Patient-Generated Health Data (PGHD)
Telemedicine and fewer visits to care facilities increase patients' responsibility for gathering health information. Yet, we all may agree that meticulously noting detailed health measurements while sticking to a schedule might not be at the top list of our favorite things to do. PGHD software comes to help – these apps and wearable devices can record health data and forward it to your doctor in just a few taps. Remote monitoring systems are part of it, but PGHD apps for mental health and cognitive conditions like Alzheimer's require more patient involvement.
This is interesting: read an article about healthcare web development.
Conclusion
Today's healthcare industry is undergoing a digital transformation – it relies on modern technologies and advanced solutions for many operations. If you're considering launching or expanding your business in this competitive field, investing in custom-made technological resources to suit your organization's needs can be an advantage to put you far ahead of the competition.
That is why we strongly recommend choosing a medical software developer with deep expertise in industry regulations and standards. Enjoy peace of mind knowing that your new system will facilitate top-level compliance with governmental policies and meet your unique needs. These qualifications combined guarantee an outstanding solution tailored just for your organization. A clever choice indeed!