Today is all about technology and innovation, and healthcare is no exception. We hear about breakthrough disease diagnosis, management, and treatment solutions daily.
Some companies are utilizing innovative approaches to address the pressing challenges, saving countless lives and extending health spans for people worldwide. Other businesses focus on improving the patient's experience and simplifying the formal side of health care. Their solutions automate routine operations and allow physicians to focus on helping patients. And while patients' access to doctors becomes easier through telehealth software, an extra layer of solutions ensures the safety of medical data storage and transfer.
According to the latest report by Markets and Markets, the global healthcare IT market was $394.6 billion in revenue at the end of 2022 and will reach $974.5 billion by 2027, growing at a CAGR of 19.8%.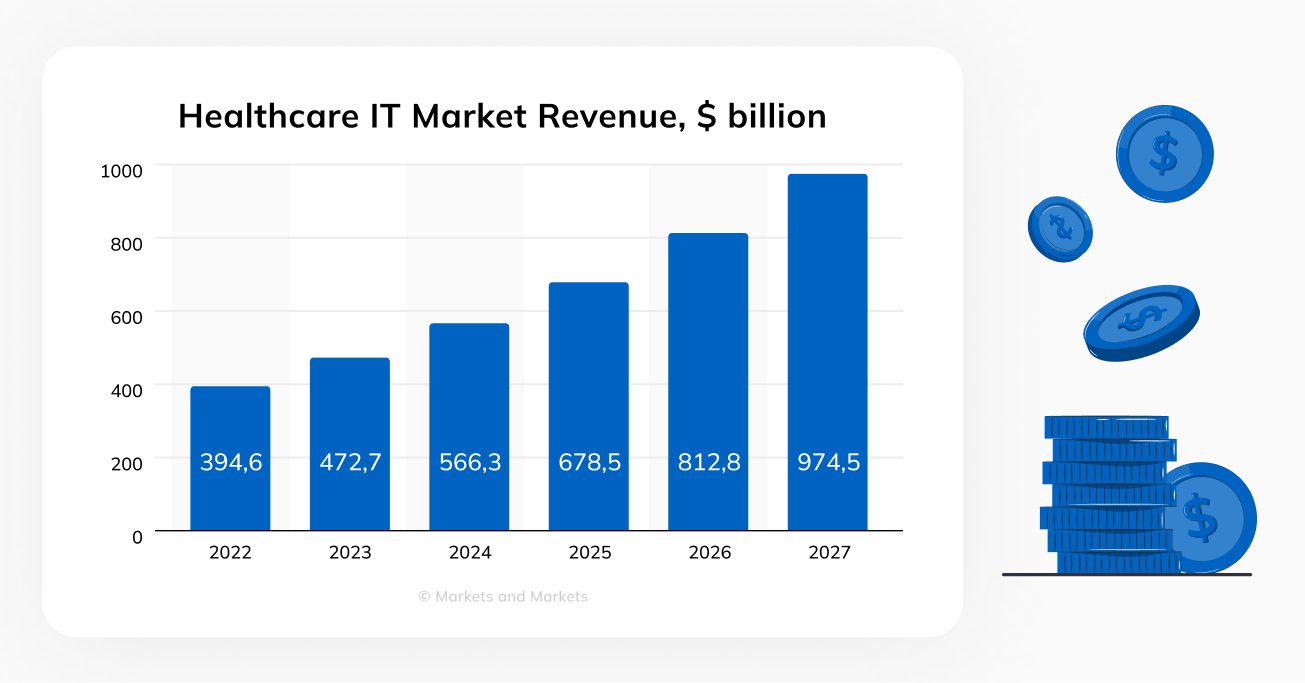 What are the key market drivers? The research highlights the following reasons:
Government mandates and support for HCIT solutions
Increase in big data usage
High return on investment related to HCIT solutions
Need for healthcare costs reduction
Growth of e-prescribing, telehealth, and mHealth due to COVID-19
The COVID-19 pandemic has become a push for the growing health tech market. Worldometer has recorded over 676 million confirmed cases as of February 7, and around 6.8 million people died. The situation stimulated the growth of the e-prescriptions market. As Contrive Datum Insights mentioned in their report, its market value in 2022 is USD 2.89 billion and will register a CAGR of 26.8% by 2030.
Despite the global economic downturn, the healthcare software development market has significant growth potential. Let us look at the major players moving the industry forward.
List of Top 18 Healthcare Software Companies 2023
A New Zealand-based company is developing projects for the British National Health Service and American Health Information Exchanges. It has over 450 clients worldwide and employs around 600 people in 19 offices in different countries. Its product portfolio includes interoperability, population health management, healthcare navigation, patient engagement, and care coordination solutions.
In 2019 the company rolled out its Health Information Exchange for the Middle East to store and check information about 50+ million people.
Computer Programs and Systems Inc. (CPSI) was set up in 1979 to develop new solutions for hospitals in rural areas. During its long history, it created subsidiaries and bought other companies to strengthen its practice areas. For instance, in 2015, it established Evident to advance EHR. Then it purchased Healthland Holding, Inc. and its affiliates – Healthland, Inc., American HealthTech, Inc., and Rycan Technologies, Inc.- for further market expansion beyond the US to Canada.
Currently, CPSI serves 4,000 healthcare facilities across the US and provides them with solutions such as software for acute and ambulatory, post-acute care, patient engagement, and business and IT consulting services.
Initially MedAssurant, Inovalon is now one of the well-known cloud-based solutions in the healthcare industry. Inovalon offers data-driven solutions, helping clients from the healthcare sector get real insights derived from their clinical and quality outcomes. Organizations can better control their technological needs through its platform, medical record audits, and risk score verification processes for claims/payments integrity, care coordination support & point-of-care options.
Inovalon went IPO before 2021 after being purchased by Nordic Capital and Insight Partners.
Founded at the dawn of electronic health records eClinicalWorks came out to reduce paperwork in the healthcare industry. It signed the first 250 providers within three years of work selling their solution on CD-ROMs. As of now, more than 150,000 doctors and nurses, as well as over 800,000 medical practitioners, are connected to eClinicalWorks systems.
The company started as the "Athena Women's Health" birth center in San Diego. But later on, the founders decided to change the business model after receiving an offer to buy their software and focused on online medical care. Currently, athenahealth offers its clients a range of solutions, including electronic health records, revenue cycle services, patient engagement, telehealth, and point-of-care mobile apps.
The company was set up in 2008 by Tenet Healthcare Corporation with the primary focus on assisting help hospitals and healthcare systems to make their revenue cycle performance and interactions with patients more efficient. Currently, it offers its clients solutions for hospital revenue cycle management, revenue cycle outsourcing, patient access & experience, clinical revenue integrity, A/R, physician revenue cycle, financial risk management, and population health management.
The company started as Medic Computer Systems and later changed its name to Allscripts. In January 2023, it became Veradigm. Its network serves over 330,000 healthcare providers and approximately 180 million patients. Its solutions include cloud and professional EHR, practice management, revenue cycle management, patient engagement, and enterprise platforms.
The company was set up in 2008 and started selling a solution called MedBillManager. Later the team decided to focus more on the B2B segment offering products for the healthcare industry. In 2015 it was acquired by Emdeon, and the new conglomerate took the name Change Healthcare. In 2021 it became a part of UnitedHealth Group, which also owns Optum. Today Change Healthcare offers solutions for payments and revenue cycle, clinical and imaging, and patient and member engagement.
At the end of the 1970s, three teammates at an accounting firm created their own company, initially named PGI (the first letters of their surnames). In 1984, it changed its name to Cerner after launching its first product called PathNet. Since then, it has become one of the most successful healthcare software companies and even developed its programming language – Cerner CCL (Cerner Command Language). In December 2021,
Cerner became a part of Oracle due to its purchase of $28.3 billion.
The company's top solutions are:
Cerner Ambulatory aimed at increasing clinical and operational efficiency by ensuring continuous processes.
Command Center empowers health systems to reach their optimum performance, achieve streamlined operations and provide higher quality care.
HealtheReferrals keeps care providers connected to their patients, regardless of what electronic health record they use or who insures them.
Epic EMR is one of the most recognized products in the healthcare industry because many top-ranked US hospitals and medical schools use it. Apart from that, Epic currently employs over 10,000 people and offers revenue cycle management, analytics, health plans, and patient flow solutions. Epic also provides businesses with an opportunity for cloud hosting for those who prefer to avoid managing their servers.
This company had nothing to do with software development in healthcare initially. It was set up in 1945 as Western India Palm Refined Oils Limited and produced vegetable and palm oils. Later, in the 70s, when the government supported the uprising IT field, it decided to switch from agriculture to tech. In 1977 the company changed its name to Wipro Products Limited.
This plunge brought enormous success to the company, the second in India to earn $1 billion in revenues. In 1999 it was listed on the New York Stock Exchange. Now Wipro is a multinational corporation developing software for various industries.
In healthcare, Wipro offers revenue cycle management systems, interoperability solutions, Medicaid platform, enrollment and billing, and healthcare insurance exchanges to its clients.
Philips Healthcare, a part of the Philips group founded by Gerard & Frederik Phillips over 130 years ago, provides solutions for every stage along the healthcare continuum. Initially, this well-known conglomerate produced light bulbs and then electric shavers. In the 20th century, it grew into a global electronics manufacturer. Later on, the company decided to make a strong focus on health.
From healthy living to diagnosis treatments through home care situations — their portfolio includes top-of-the-line CT scanners, ECG equipment, monitoring devices, and more to give patients access to superior quality medical services worldwide.
Philips also provides alarm management, early warning scoring (EWS), HealthSuite Digital Platform, integrated cardiovascular solutions, patient-reported outcomes, and many others.
GE Healthcare appeared as a subsidiary of the global General Electric multinational conglomerate. It dealt primarily with medical equipment, but in 2005 GE acquired a healthcare information technology provider IDX thus entering the software market. In 2021 it started working on AI-based software together with Spectronic Medical. In January 2023, GE Healthcare spun off General Electric to become a separate company.
Its solutions include advanced visualization, cardiology IT, command centers, cybersecurity, digital health platform, enterprise imaging, imaging operations, PACS and AI orchestration, pharmaceutical IT, software & apps marketplace, ultrasound reporting, and virtual care.
Cognizant started in India as Dun & Bradstreet Satyam Software. But in two years, a new Cognizant Technology Solutions appeared after splitting some of its subsidiaries and restructuring. In 1998, the company relocated to its new headquarters in the US, then grew and acquired other companies. At the moment, Cognizant offers its virtual monitoring system to medical professionals.
Apart from healthcare Cognizant also focuses on such industries as Banking & Financial Services, Insurance, Manufacturing, and Retail.
Tata Consultancy Services, or TCS, is one of the companies that started a long and rich history in the tech industry in India. At that time, the new sector was mainly state-controlled but received enormous support from Indian authorities. TCS was the first local player to send its experts to an American client.
Nowadays, it's a big multinational corporation that employs over 600,000 people worldwide and is a well-known player in the global market. It offers public healthcare solutions to help governments make medical treatment more affordable by automating big hospitals, integrating local medical institutions, and assisting with health insurance for vulnerable citizens.
TCS also offers an AI-based patient care platform, a healthcare professionals' engagement solution, a сognitive assistant application for healthcare providers, and a fog computing platform.
Initially named EMC, the company produced memory boards for computers. This multinational corporation specializes in data storage, information security, virtualization, analytics, cloud computing, and other products and services aimed at storing, processing, and analyzing significant volumes of information. In 2016 EMC was purchased by Dell and became a part of an enormous business empire.
The company's solutions in the healthcare industry include virtual care and telehealth systems, remote patient monitoring, precision diagnostics using AI, clinical genomics, digital pathology, and the healthcare cloud.

The history of this giant started long before 2011. In 1998 UnitedHealth Group developed two divisions to help better serve their customers: Ingenix (now OptumInsight) and Specialized Care Services (now known as OptumHealth). After several mergers and acquisitions, UnitedHealth Group finally decided to create a separate brand Optum uniting in this way pharmacy services, data analytics, and care delivery in 2011.
The company uses big data analytics, artificial intelligence, and machine learning to provide patients with optimized outcomes at lower prices. The OptumInsights segment offers data mining services and predictive models to 90% of US hospitals and serves 120 million unique consumers.
Optum also offers services like cloud-based platforms, security, IT strategy, and road map for business enablement, development of healthcare solutions, and implementation. Medical researchers use Optum HER widely.
One of the biggest, oldest, and most well-known players in the global pharmaceutical market started its long and exciting journey 190 years ago as a wholesaler of botanical drugs. McKesson's tech history began in 1999 when it acquired medical information systems firm HBO & Company. In 2006 and 2007, it also purchased Per Se Technologies, Relay Health, and Practice Partner.
Today McKesson offers a pharmacy management solution called EnterpriseRx®. The main features include pharmacy data hosting, centralized information across all locations, extensive reporting capabilities, integrated programs, and workflow streams.
Conclusion
As we see, many players started changing the industry landscape back in the 70s. And the transformation is still very much going on as new healthcare institutions and software development companies join.
Technological advances such as the Internet, mobile phones, and computers increased access to healthcare for more people. The same inventions, including healthcare information technology, medical imaging technology, and robotic surgery, made it easier for medical professionals to treat patients efficiently, quickly, and effectively. New diagnosis methods, including AI-based, are applied, and soon we will see a real revolution in healthcare. Telehealth solutions give more people access to care and a chance to find a better phycisian across the world. Advanced cybersecurity technologies ensure that sensitive data is not just transferred but also stored and protected properly.
Do you want to be a game-changer in the industry? Do you consider starting your own healthcare business or advancing your existing company with the latest technologies? Learn how to take a step to the next level with custom healthcare software development and stay competitive in the future.