Despite intense digitalization, interoperability between EMRs and other healthcare systems remains an issue for healthcare providers.
Therefore, overcoming current challenges and barriers in reaching the maximum possible interoperability is a top priority in the healthcare industry.
Although medical advances have been achieved and new software systems have been introduced, data exchange remains a major global problem. In recent years, the issue of interoperability has gotten more acute, as enterprises collect huge amounts of data that cannot be effectively assessed or shared.
According to the Frost & Sullivan research firm, the worldwide market for health interoperability is expected to reach $8 billion by 2024, up about 14% from the current 2019 value.
The medical sector is developing and growing more quickly than ever, with interoperability becoming one of the most expensive issues, costing about $30 billion a year.
Healthcare interoperability has many benefits to offer. It enables better care quality, and creates an opportunity for clinicians to see the full picture of a patient's history, which in turn allows more data-based decision making.
Interoperability simplifies administrative workflow, diminishes data errors, and boosts the overall performance of the hospital, laboratory, or other medical organization.
However, it is important to understand that while interoperability can surely evolve and cover more data sources, it can't eliminate data exchange complications completely, at least for the time being.
What are the key healthcare interoperability challenges?
While many experts in the industry think that technology solutions can fix this problem fully, it is not a realistic expectation for a variety of reasons.
The primary challenge is the different technology needs and capabilities of each stakeholder in the healthcare system. Some organizations are pouring investments into new data infrastructure, while others struggle to maintain their already outdated software.
A lot of these systems are used by clinicians, which creates additional challenges: not all medical specialists are fond of dealing with multiple software systems.
According to the 2019 HIMSS survey, nearly 75% of healthcare organizations described their interoperability capabilities above the "foundational" level, where "foundational" was defined as allowing data exchange from one software system to another, but with no interpretation of this data, which makes it useless.
Sometimes organizations use cloud systems that don't support integration with older solutions, or vice versa. The same research from HIMSS found that only 26% of respondents say their HIT applications are able to integrate with other systems through APIs.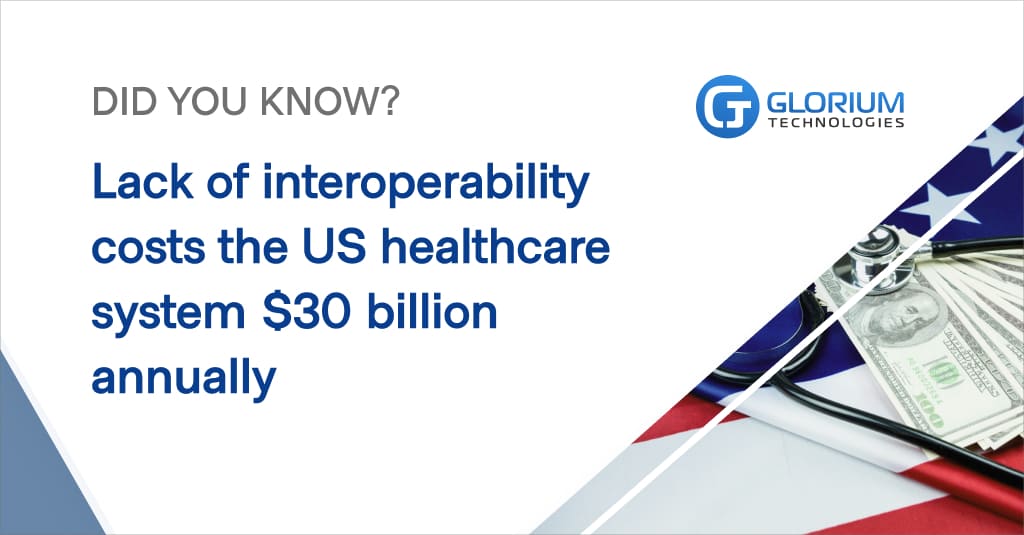 Discrepancies between data formats caused by these integration issues cause further complications down the workflow line. Here are a few other common challenges of healthcare interoperability:
Incomplete and inconsistent data from multiple sources
Inability to identify the data source and unify the format
Slow or absent integration processes
Lack of enforcement of common interoperability standards
Inability to support integrations with outdated systems
Data misinterpretation and security risks
Last but not least, the lack of actual collaboration and shared understanding of the issue is one of the major challenges on the road to interoperability.
The problem is that medical organizations often see the process only within their role, while failing to see the complete picture of the healthcare system and understand how it functions.
Of course, collaborative data infrastructure can help increase interoperability, but it firstly requires an understanding of common responsibility and accountability from medical leaders.
Therefore, it's crucial for medical organizations to cooperate and join efforts in order to improve and ramp up healthcare interoperability.
While all of these challenges can't be completely eliminated, industry professionals should still actively take steps to improve the situation. As the evidence shows, lack of interoperability causes gaps in clinical history, hinders administrative performance, frustrates clinicians, and poses a serious threat to data privacy and security.
Overcoming barriers to healthcare interoperability
While reaching complete and unobstructed interoperability is not a realistic expectation in the nearest future, healthcare providers should actively work towards enhancing the industry's data sharing capabilities. There are multiple ways to address the current interoperability challenges:
Modern data infrastructure and repositories
Switching to agile and modern data infrastructures with stronger integration capabilities is a crucial step towards interoperability. Despite the fact that not every company has the resources and budget to upgrade the software, it should definitely become a priority.
While data is important when it comes to healthcare, it is still a challenge to properly process it and analyze for future use. The key here is to create a collaborative data space. DevOps solutions can be a critical solution here to enable data-driven yet collaborative space for healthcare interoperability.
With DevOps, it would be easier to have ready-to-use data and speed up the exchange of information.
It is a data engineering methodology that aims to offer production-ready data in a timely, dependable, and repeatable manner for analytics and data science.
It is enhancing and advancing data governance through engineering disciplines that support data versioning, data transformations, and data lineage. Additionally, DevOps activities enable corporate operations to be more agile by quickly meeting new and changing data needs.
It also promotes portability and technical operations agility by allowing for the quick redeployment of data pipelines across many platforms in on-premises, cloud, multi-cloud, and hybrid data ecosystems.
Healthcare software providers, in turn, need to develop systems that are in compliance with the industry's common data exchange standards. These solutions should be able to support different data formats and enable flexible but secure connections to other IT systems.
Implementing new industry standards: HL7 and FHIR
In order to consolidate and facilitate medical data exchange, the industry has agreed to establish common interoperability standards. So far, healthcare has developed several standards, with HL7 being the most prominent, along with its recent substandard, FHIR.
HL7 (Health-Level 7) is a medium of digital information. In principle, it is a complex framework that permits the integration and interoperability of health data between different software solutions.
HL7 standards identify and create communication formats and data exchange guidelines for clinical documentation, syntax and common definitions of health data, HRD and health records, quality reports, and product labeling prescriptions.
A new specification and the current version of HL7 from Health Level Seven International is FHIR or Fast Healthcare Interoperability Resources, which may serve as a stand-alone data interchange standard.
The FHIR specification simplifies implementation by the use of established theoretical and logical models. In principle, FHIR is the most recent data interchange architecture particularly designed for digital interactions.
This allows a new clinical decision model that provides healthcare practitioners real-time access to information, and links systems, apps, and devices.
Furthermore, all exchangeable data are defined in the FHIR standard as resources that share features such as a common collection of metadata, a human-readable portion, and a common method of defining and depicting data types, which define common patterns of elements.
The FHIR's principal purpose is to provide resources that can either alone or in combination serve most usage scenarios.
Update and support outdated systems
The common mistake healthcare software providers make is to dismiss the fact that the industry relies heavily on outdated software systems and protocols. In terms of software, it's important to keep the big picture in mind rather than creating a one-time solution.
If the software can't support common data formats, even if they're outdated, it is creating hurdles not only for the primary user, but for all the data partners of the organization as well.
Medical organizations, in turn, should seek sophisticated solutions to update their data systems with minimum downtime and safely migrate all information to the new repository.
Interoperability Solutions with Glorium
In view of the increasing reliance on connectivity between different sources of data and systems by the modern health care sector, healthcare software development firms must focus on solutions to the smooth integration of data in order to have a competitive advantage in the health technology market.
The first step towards establishing smooth data infrastructure that matches the current expectations of your business is to have a trusted software development partner at your side.
With more than 10 years of industry knowledge, Glorium helps start-ups swiftly reach the market and compete with excellent service and custom solutions. By nurturing your ideas from concept to launch, our dedicated team helps bring your ideas to life.
Learn more about our healthcare software and application development solutions today.