Hospitals and medical institutions, except for their primary determination, are also businesses that need a consistent and refined revenue flow.
All financial operations that go through the hospital are managed by the medical billing system, which is a large ecosystem that is often a part of an even larger software unit, an electronic health record (EHR) system.
Over the last couple of years, the healthcare industry has become a frontrunner in digital transformation, attracting billions of dollars from investors.
Despite the widespread adoption of tools and systems for the automation of healthcare, there are still many challenges when it comes to patient billing, insurance eligibility, reimbursements, and other financial operations.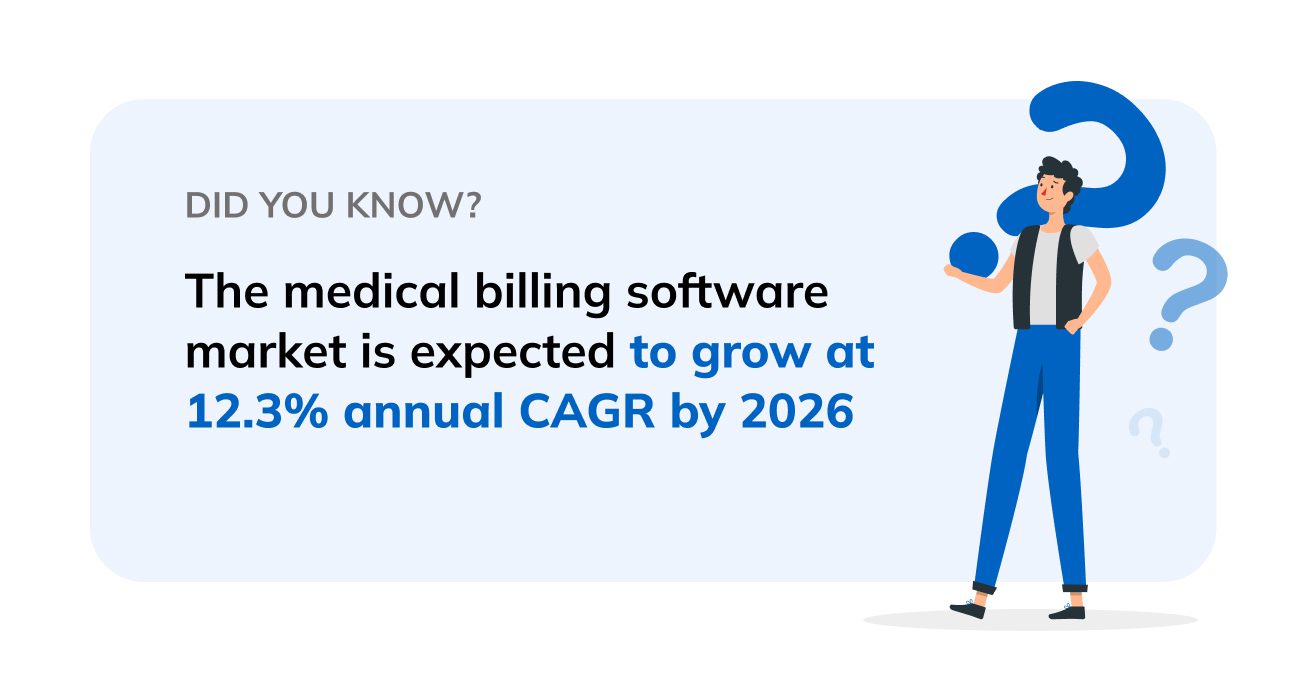 What is a medical billing solutions and why do you need it?
A medical billing system is a software that automates payment documentation and coding, bringing speed to the financial operations and reducing tedious manual tasks.
Billing is an important component of providing healthcare services, and having a capable system to manage claim submissions, maintain medical billing codes, and offer data may considerably improve medical practice efficiency.
Ideally, this software capture and verifies every invoice, stores and accurately classifies the payment data, ensures on-time transactions, prevents duplicate claims, and provides smooth claims processing throughout the revenue cycle.
In sum, the role of medical billing software is instrumental for a medical organization to be profitable and provide better care. Let's explore a few other benefits of medical billing software.
Reduced costs
The quality of care and hospital profitability is greatly affected by the billing system. Having a smooth and regulated revenue flow lets patients and insurance companies make payments on time and through a variety of channels.
A competent medical billing software platform with comprehensive scheduling capabilities can also improve communication between doctors and patients. If all records and transactions are saved in the system, it is possible to maintain track of payment history which is connected to appointments.
Failure to properly process claims leads to big monetary losses for the hospitals and refusal to provide care for the patients. Both of these outcomes are big issues in the healthcare industry, which medical executives try to address by implementing sophisticated medical billing systems.
A recent study by Change Healthcare has shown that since last year, the number of denied claims has increased by 11%. The key reason for this increase is the lack of the right tools for billing management.
Improved patient experience
Adding consistency, scalability, and reliability to medical software improves patient care and experience, provides more revenue for medical organizations, and makes healthcare practice operations far more efficient.
Additionally, complications with transactions frequently result in delayed care, which can be frustrating for patients who require urgent medical services.
Thus, incorporating the most essential features and components of medical billing software will make healthcare services more effective and appealing to their primary audience: doctors and patients.
Frictionless administrative flow
Using a system that can handle claim submissions, maintain medical billing codes, and give reporting can dramatically increase medical center efficiency.
Billing software automates payment verification and coding, resulting in faster financial processes and the elimination of time-consuming, repetitive manual activities.
Human errors are the second leading cause of mismanaged finances in healthcare, and the medical billing system greatly reduces the probability of this happening.
With automated billing processes and claims management, there's a lesser chance of duplication, document typos, or other mistakes.
Medical billing processes and features
While there are plenty of SaaS medical billing solutions on the market, most of them still lack integrity and functionality. To better understand the basis of good medical billing software, let's explore the key features and processes of healthcare billing.
This is interesting: read an article about medical software development services.
Patient billing and eligibility verification
Developers of healthcare solutions frequently overlook the patient's side of the payment process. A variety of convenient and functional payment methods eliminate many bottlenecks in the healthcare system, lower manual, and administrative work, and instill credibility in the medical enterprise.
Another critical feature is insurance eligibility verification, which tracks if the insurance has expired, or the services it covers. Real-time eligibility (RTE) is a patient eligibility technology that is built into medical billing software.
It allows for the real-time digital verification of a patient's insurance coverage, essentially checking if the insurance provider is operating legally, whether a policy is expired or does not cover specific services.
Here are some examples of the information verified by the eligibility feature:
Screening eligibility should be a standard function of current medical billing systems, providing another important data set to the medical chart.
Integration with external systems
The fundamental component of medical billing software is a flexible and responsive integration capability and interface so that financial activities in an EHR or any other system can be quickly optimized.
Without the capacity to readily connect with external applications, billing software will complicate the practice process, which is the opposite of what it is designed to do.
Medical billing codes tracking & processing
There are specific codes that are used by health insurers to calculate the amount of reimbursement that a doctor will receive from the service.
As a result, medical billing software should provide a compliant, correct list of codes as well as a guarantee of the solution's capacity to automatically allocate and process codes within the network.
In medical billing, HCPCS (Healthcare Common Procedure Coding System) or CPT (Current Procedural Terminology) codes are standard classifications that are an essential element of the billing process.
Each service provided by the clinician is allocated a distinct code, which allows a billing system to monitor and process the code to determine the amount of compensation to be received.
Medical claims management
One of the most important functions of medical billing software is the ability to track and process medical claims. Claims processing is a distinct aspect of billing management that, if overlooked, can result in significant financial losses.
Typically, problems arise when patients decline a claim for reasons that the hospital administration system is unable to recognize.
Medical billing software processes claim submissions and deliver notifications in the case of claim denial, transmits billing information to rendered parties, performs claim settlement, and so on.
This capability also includes the detection of incorrectly given codes, preferably with an automated reaction.
Appointment scheduling system
Any decent medical billing software would need to include extensive scheduling tools to help physicians and patients communicate more effectively.
Having all of the visits saved in the system allows you to keep track of the appointment history as well as the doctor's notes. The same tool sends reminders, follow-ups, alerts when lab results come, and suggests booking an appointment when it is appropriate.
Financial reporting
To understand actual revenues and identify gaps in financial operations, healthcare providers need smart reporting in their billing systems. Obtaining access to patient information that is connected to payment and insurance records provides opportunities for more accurate financial statistics.
Through intelligent analytics, medical billing software should be capable of making use of patient data and compiling real-time financial reports.
It should also help provide insights and recommendations on how to improve the patient experience.
Medical billing software development with Glorium
The first step towards customized medical billing system software is to have development and implementation that meets the expectations of the industry. To do this it is necessary to have a trusted software development provider by your side.
With more than 10 years of niche expertise in health tech solutions, Glorium helps medical businesses address their current challenges and reach the market with excellent service and custom solutions.
By nurturing your ideas from concept to launch, our dedicated team helps bring your plans to life.
Learn more about our healthcare software and application development solutions today!
FAQ