Integrating Artificial Intelligence (AI) in healthcare software is no longer just an innovative option – it's a necessity. As the healthcare industry grapples with overwhelming data, traditional software systems can no longer efficiently process, analyze, or derive actionable insights. AI brings advanced data analytics capabilities, enabling real-time processing of complex datasets, from patient records to radiology images. Such analyses can lead to more accurate diagnoses, predictive healthcare interventions, and personalized patient care.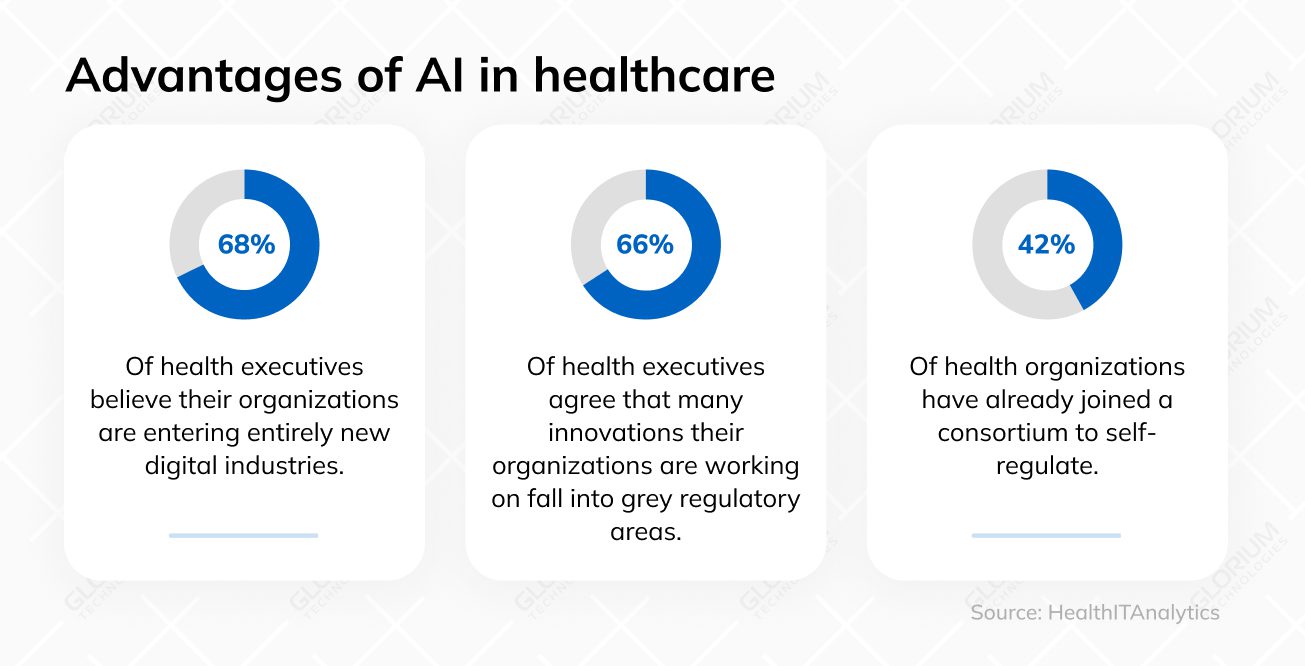 According to a study by McKinsey & Company, AI could automate up to 45% of administrative tasks in healthcare, freeing up $150 billion in annual costs. And that is not all. Department of Health and Human Services states that AI could help detect up to $200 billion in fraudulent healthcare claims yearly, which are really impressive numbers. So let's take a look more deeply how AI saves healthcare costs.
How Can AI Save the Costs in Healthcare?
The healthcare sector has witnessed remarkable enhancements in efficiency due to AI technology. This innovation has streamlined numerous processes and optimized patient and resource management. Presently, the integration of AI in healthcare is producing beneficial outcomes across health systems, including:

Cost saving via streamlined operations
Leveraging AI, routine tasks can be automated, cutting down on manual interventions and the related expenses. AI scrutinizes workflows, identifies bottlenecks, and suggests optimal resource distribution, ensuring cost savings.
Minimizing errors which leads feature costly mistakes
AI techniques minimize data inaccuracies, leading to dependable results and diminished error-associated expenses. With insights driven by AI, healthcare startups can avert decisions that might result in hefty losses.
Infrastructure cost containment:
AI-fueled cloud platforms adjust based on demand, ensuring startups aren't overspending on infrastructure.
Product development and iteration:
AI tools can quickly parse through user feedback to identify areas for improvement, streamlining the R&D process and reducing wasted development costs. Using AI, product functionalities can be simulated, curbing the costs linked with tangible prototypes.
Augmented software user experience:
Chatbots and AI assistants manage a vast array of user inquiries, decreasing the need for expansive support teams. AI's ability to foresee user issues translates to cost savings by pre-emptively addressing potential grievances.
Cost savings through advanced security measures:
AI actively identifies irregularities and potential data breaches, safeguarding against financial repercussions. Automated AI systems ensure you remain compliant with industry standards, avoiding potential fines.
I anticipate that, due to artificial intelligence and its capacity to handle specific tasks that were previously unattainable, we'll see a more prosperous society, and the work standard will rise notably. Additionally, a larger percentage of individuals will find vocations and professions compared to now.

Jeff Bezos

Founder and Executive Chairman of Amazon
Incredible Numbers from Healthcare Startups
Now, let's delve into the actual figures from healthcare startups that have incorporated AI into their software solutions.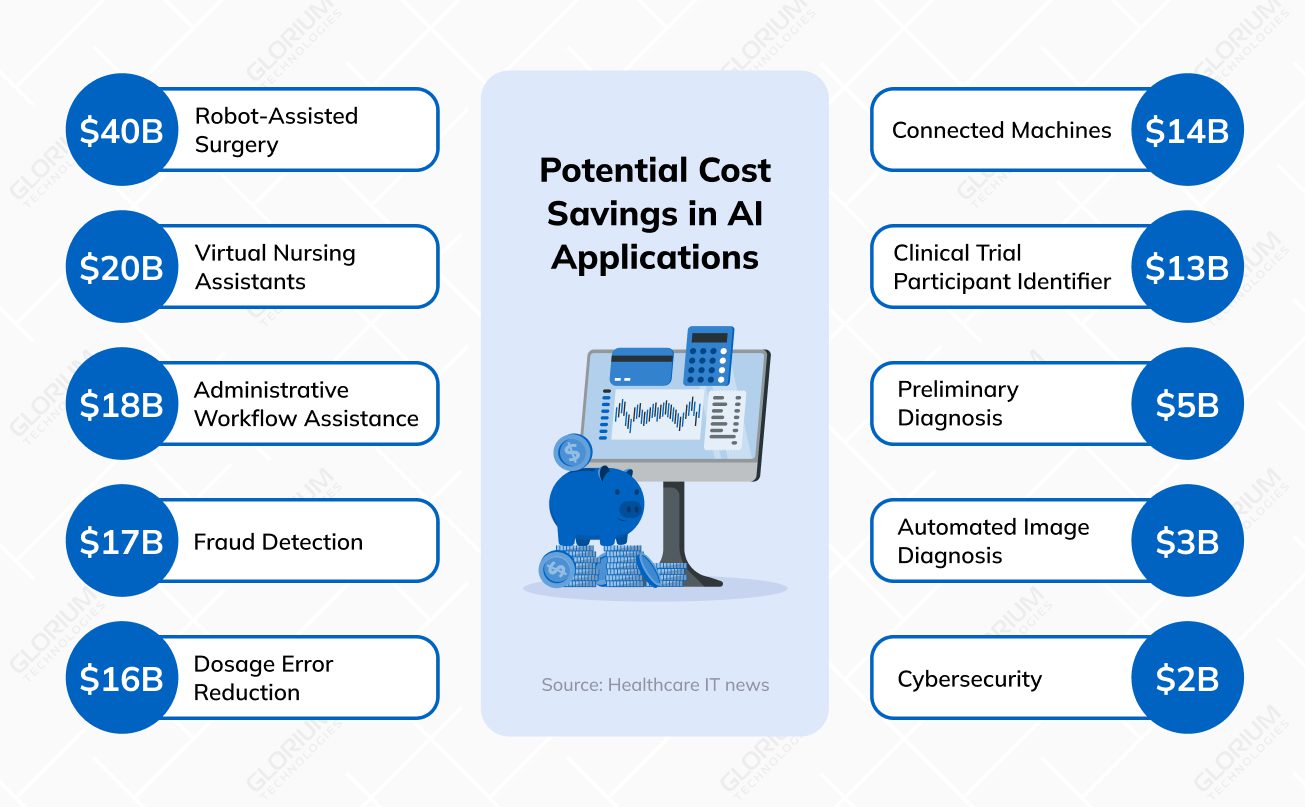 Neko Health
Series A
Stockholm, Sweden
Founded:
2018
Founders:
Hjalmar Nilsonne and Daniel Ek.
Website:
Total funding amount:
$65M
Using cutting-edge AI and advanced sensor technologies, Neko Health offers non-intrusive and cost-effective full-body scans that gather extensive health metrics for patients. In collaboration with healthcare professionals, academic institutions, and researchers, the startup is pioneering a new form of medical care. Neko's Body Scan service employs over 70 sensors to capture a wide array of health data, analyzing more than 50 million data points from each individual.
Navigating the complex landscape of healthcare regulations is a costly affair, so AI helped to automate compliance and reporting tasks, ensuring the company meets industry standards without requiring extensive manual labor.
RadAI
Series A
California, United States
Founded:
2018
Founders:
Doktor Gurson, Jeff Chang
Website:
Total funding amount:
$33M
Leveraging advanced AI tools, RadAI has successfully enhanced detection rates by a notable 25%. Such advancements not only pave the way for accurate and timely diagnostics but also have a broader financial impact.
From a monetary perspective, this enhanced precision and early intervention culminate in considerable cost savings. To put it in numbers, RadiAI's advancements are contributing to a staggering annual savings of over $10 million. This not only reflects reduced expenses on prolonged treatments and hospitalizations but also underlines the potential in preventive care, where catching issues early can circumvent high long-term medical expenses.
Insitro
Series C
California, United States
Founded:
2018
Founders:
Daphne Koller
Website:
Total funding amount:
$743M
Insitro employs machine learning to revolutionize drug discovery and development. This healthtech startup gathers a blend of genetic, clinical, and phenotypic data to construct disease models that are highly predictive. Utilizing a combination of patient-sourced stem cells, genome editing, and machine learning algorithms, they craft in vitro disease representations that closely mirror human clinical results. This approach has led to the identification of previously undetected disease subcategories and health-improving interventions.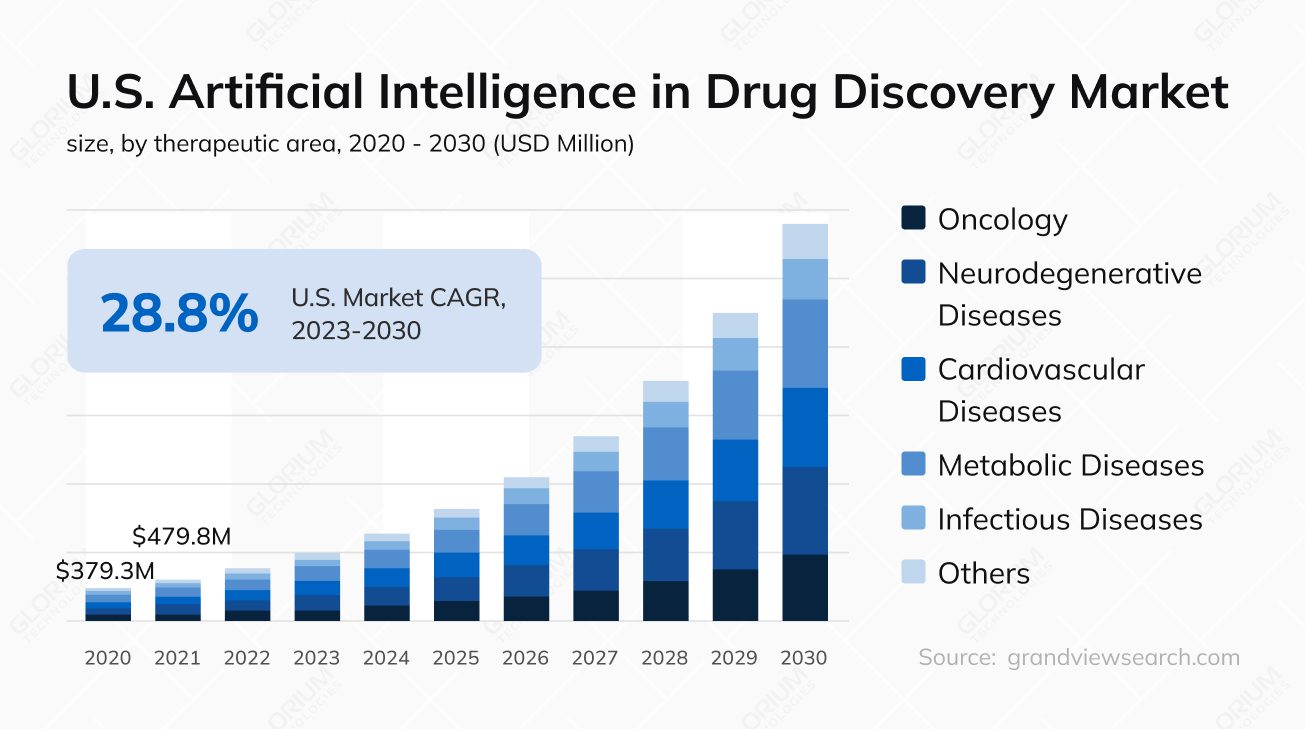 In this case machine learning algorithms sift through vast amounts of genetic, clinical, and phenotypic data at speeds unattainable by traditional research methods. It expedites the discovery process and reduces the labor and time costs associated with data analysis. Additionally, AI enables the identification of disease-modifying targets more efficiently, cutting down on the resources spent on less promising avenues of research.
With machine learning automating many repetitive and complex tasks, the startup's team could focus on specialized work that adds more value to the drug development process, thus better utilizing human resources.
LifeLens
Series Unknown
Pennsylvania, United States
Founded:
2014
Founders:
David Robins, Landy Toth, Rob Schwartz, Robert Van Tassel
Website:
Total funding amount:
$3.2M
The striking outcome of LifeLens's intervention in diagnostics has been the significant reduction in costs. AI streamlined the diagnostic process and enhanced the accuracy of initial tests, they've cut down the costs associated with these tests by an impressive 30%. It means faster, more reliable diagnostics at a fraction of the traditional cost.
Quantifying the impact, LifeLens's innovative approach translates to a whopping annual savings of $5 million. This is not just a victory for the company or healthcare providers; it's a win for patients. Reduced diagnostic costs mean more people can access vital tests, ensuring early detection and timely intervention for many conditions.
TheraBody
Private Equity
Dallas, United States
Founded:
208
Founders:
Jason Wersland
Website:
Total funding amount:
$165M
One-size-fits-all therapies often fall short in providing optimal outcomes for patients. Recognizing this gap, TheraMind introduced an AI-driven approach to assess many factors from patients' medical history, genetic predispositions, environmental influences, and even real-time emotional responses.
From a broader perspective, the ripple effect of TheraMind's innovation has significant economic implications. With more effective and shorter therapeutic interventions, the associated costs of prolonged treatments are curtailed. Quantifying this impact reveals a staggering yearly savings of $6 million.
DermaDetect
Seed
HaMerkaz, Israel
Founded:
2016
Founders:
Dr. Guy Steuer, Eugene Dicker, Gennadi Schechtmann, Prof. Arieh Ingber
Website:
Total funding amount:
$5.3M
DermDetect has developed AI image scanning tools that go beyond the human eye's capabilities. These tools meticulously analyze skin images, detecting subtle irregularities, variations in color, texture, and other markers that might indicate underlying conditions. By leveraging vast datasets and machine learning, their system continuously improves, growing more adept at distinguishing between different skin anomalies.
They've ushered in substantial savings by eliminating the costs associated with excessive treatments and the potential fallout of misdiagnoses. To put a figure on it, the healthcare sector sees a yearly financial relief of approximately $4 million owing to DermDetect's AI-enhanced diagnostic approach.
HeartBeat Health
Series B
New York, United States
Founded:
2017
Founders:
Jeffrey Wessler, Mark Hanson, Nayan Jain
Website:
Total funding amount:
$28.5M
Recognizing the immense challenges and implications of cardiac events – both from a patient well-being and a cost perspective – HeartBeat AI has dedicated itself to early detection, where timely intervention can make all the difference.
With its innovative approach to cardiac health, HeartBeat AI has averted interventions that would otherwise place substantial financial burdens on healthcare systems. The numbers speak for themselves: an impressive annual saving of around $10 million.
Summary
Seven startups – MediPredict, RadAI, Medica, LifeLens, TheraMind, DermDetect, and HeartBeat AI – serve as trailblazing examples of the transformative power of AI in healthcare. From dramatically reducing misdiagnoses and readmissions to enabling early detection of critical health conditions, these startups have carved a niche by leveraging AI's capabilities. The cumulative financial impact of their innovations amounts to millions in annual savings, reshaping the economic landscape of healthcare.
Recognizing the monumental shifts AI is bringing to the healthcare sector, isn't it time your organization benefited from it too? At Glorium, we boast 13 years of dedicated expertise in healthcare. Be aware of the AI revolution. Reach out to Glorium today, and let's shape the future of healthcare together.