In today's world, nobody is surprised by smartwatches and fitness trackers. However, there is more to medical wearables than just step counting. Entire device categories appear to drive increased demand caused by the need for remote care technology. The projected global end-user spending on wearable devices in 2022 is estimated to reach $81.5 billion.
The trend for health tracking applications and tools was in the works long ago, but in recent years it has become one of the most promising and fast-growing sectors, attracting insurers and health tech companies.
While telehealth and telemedicine can be helpful during isolation, medical wearables are the only way to track the patient's condition outside the hospital. Most wearable devices in healthcare are designed to bring data visualization to an entirely new level.
Wearables are now far beyond being just a fancy accessory: we now have 5G-driven devices, smart clothing, biosensors, and more.
It's also becoming increasingly popular for both patients and regular users. According to Insider Intelligence research, the number of health and fitness app users will rise above 84 million throughout 2022.
Simply displaying a patient's steps or sleep record is no longer sufficient for an innovative patient experience, and it is also inconvenient for clinicians. Users want more than just raw facts and information; they want it evaluated and served with recommendations and insights, particularly when it comes to their health.
Market outlook: future of wearable technology in healthcare
Apart from the pandemic-driven boom in remote care, there are other factors that facilitate wearable tech development. One of these is increased interest in monitoring one's health. Apparently, 75% of patients agree that wearable healthcare devices help them monitor their own health.
More individuals want to be active in their treatment, and as a result, health monitoring is becoming increasingly popular. There is projected to be an increase in medical wearables as more consumers look to track their status with a device. Aside from fitness bracelets, healthcare wearable technology comes in a variety of sizes and types.
The main goal of these devices is to make it as simple and easy to use as possible. It is crucial to remember that people wear these trackers every day and that engagement occurs on a daily basis.
Any obstacle in the user experience can push the product down the competition list, therefore convenient, user-friendly solutions are critical for the effective distribution of healthcare wearables.
Wearable health technology trends
Medical wearables
Medical wearables are the class of devices used by doctors to gain better understanding of a patient's condition, which makes them more tailored to professional rather than personal use. A common application of medical wearables is to measure a patient's blood pressure, and to track heart rate with electrocardiogram (ECG) sensors.
In addition to identifying atrial fibrillation, the gadget may transmit alarms and relay information about a patient's status to a doctor.
Doctors can provide recommendations and treatment instructions to patients at the same time. Furthermore, wearable gadgets save historical data that can be analyzed later to extract valuable insights and monitor the user's well-being and treatment effectiveness.
The next generation of medical wearables is driven by the development of biosensors. These self-sealing patches monitor a variety of health indicators, including the user's body temperature, respiration rate, heartbeat, and blood pressure. One of these accessible patches was developed by Philips, specifically for patients in need of frequent monitoring.
For people with unstable heart conditions, the technology can be particularly helpful. Research from Augusta University Medical Center showed that a wearable device registered an 89% reduction in patient deterioration into cardiac or respiratory arrest.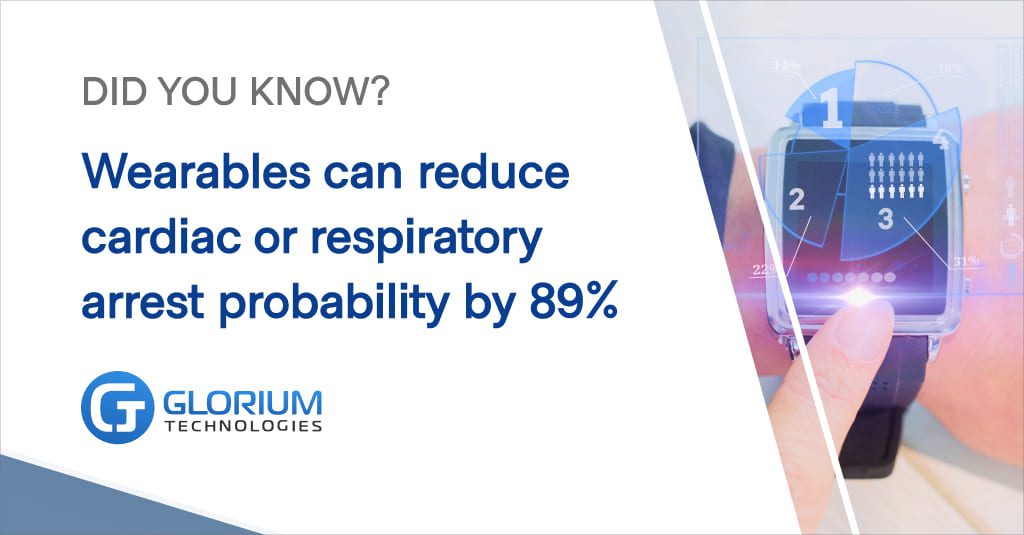 Fitness trackers
The simplest and most accessible for public use, fitness trackers have been around for a long time. It is even safe to say that the mainstream movement of personal health tracking started with a wristband.
Nevertheless, fitness devices are evolving like any other technology in healthcare and becoming more sophisticated. From primitive step counting tools, fitness tech is moving towards smartwatches with more advanced tracking capabilities.
For example, the latest generation of Apple watches leverages such functionality, with a blood oxygen saturation tracking feature, an FDA-approved electrocardiogram sensor, and heart health monitoring.
Another smartwatch, Garmin Veru 2, let's keep a close eye on the user's health metrics with quick and accurate blood oxygen saturation (SpO2) and respiration rate readings. The latest generation of Samsung Galaxy Watch 4 also can detect body fat rate and an installed snore tracker.
5G driven devices
Obviously, the key point of any medical wearable device is to accurately and quickly transmit data for further use, otherwise, there's no point in wearing the device. While some tools provide information right away, the majority of devices still need integration and connection with other main devices.
What is the role of 5G in this important process? Firstly, it is the quickest Internet speed we have so far, but the real draw card is the low latency that 5G coverage provides. Low latency means a decreased border between two points of contact, which decreases the data transmission speed from around 20 milliseconds to about 1 millisecond.
While this may not seem like a huge difference to a regular user, 5G enables significantly better data transmission quality and helps reduce downtime and data losses.
Such adjustments may be critical for patients with heart health issues, and other medical conditions that require immediate reaction and data speed.
AR wearables
Virtual and augmented reality technology is employed in the healthcare business for a variety of objectives, ranging from teaching medical students to generating simulations for patients who wish to have a better experience while receiving treatment.
VR and AR are frequently misunderstood as the same technology; nevertheless, they are distinct and have a variety of applications in medicine. According to Allied Market Research, the market for virtual and augmented reality products in healthcare is anticipated to reach $2.4 billion by 2026.
Augmented reality gives the opportunity to add virtual layers and projections to existing material objects. This makes AR-enabled products perfect for many sorts of high-level study. In particular, it's useful for studying the human body, visualizing particular body parts and treatment processes to patients, and helping doctors while selecting the treatment, preparing for surgery, and predicting the body's response.
Patients find augmented projections and 3D models to be significantly more interesting and intelligible. Clinicians, for example, can show patients images of their organs or looks before and after surgery, and the same is true for orthodontology and other sectors.
Virtual reality, on the other hand, permits an entirely digital world and enhanced 3D representation for a variety of purposes. Doctors can use virtual simulations to see the distribution of treatment doses, effectively regulate chemical treatment to prevent damage, and improve treatment planning to reduce hazards.
VR has been widely utilized to treat PTSD, anxiety, and to divert sensitive patients from uncomfortable invasive procedures in patients. A Duke University study also found that virtual simulation assisted disabled people suffering from spinal cord injuries in increasing their mobility to a greater extent.
Smart clothing, jewelry and footwear
While smart jewelry like rings and necklaces are nothing brand new, smart clothing is not so common. Impressed by self-adjusting tracking patches? Wait to see clothing pieces with embedded tracking devices in the fibers. Socks, vests, and gloves with sensors are just entry-level development in the realm of smart clothing.
One of the latest projects by the Massachusetts Institute of Technology (MIT) includes sensitive textiles that can recognize the type of activity a person is doing, analyze postures, and measure other data.
Researchers believe that the greatest potential for using sensory fibers is in athletic activities and rehabilitation, and it is highly likely that the development will become increasingly common among wider audiences in the future.
Health tracking apps and tech development with Glorium
The first step toward developing a customized health tracking application that fulfills industry expectations is to work with a reputable software development company.
Glorium, with over ten years of specific knowledge in health tech solutions, assists medical firms in addressing current difficulties in order to reach the market with exceptional service and custom solutions. Our devoted team assists in nurturing your ideas from inception to launch.
Learn more about our healthcare software and application development solutions today!