In 2019-2021, the medical community threw all efforts into the fight against coronavirus.

But another pandemic that seldom caught media attention was developing no less rapidly — polypharmacy and drug prescription misuse.
Polypharmacy is the simultaneous use of multiple drugs, usually more than five. Drug prescription misuse does not require an additional explanation. Statistics are genuinely staggering.
Luckily, this problem turned out to be solvable by medication tracking software development and implementation.
Medication tracking software is a new part of a more extensive medication management and tracking system.
What is Medication Management?
Medication management is a strategy designed and implemented to ensure the timely and proper intake of medicines.
In many cases, "medication management" and "medication tracking" tend to be used interchangeably. However, medication tracking is more of a technical flow within more extensive medication management.
Medication management and medication tracking software have a range of benefits for all stakeholders involved — physicians and nurses, hospital management, patients and their relatives, and society at large.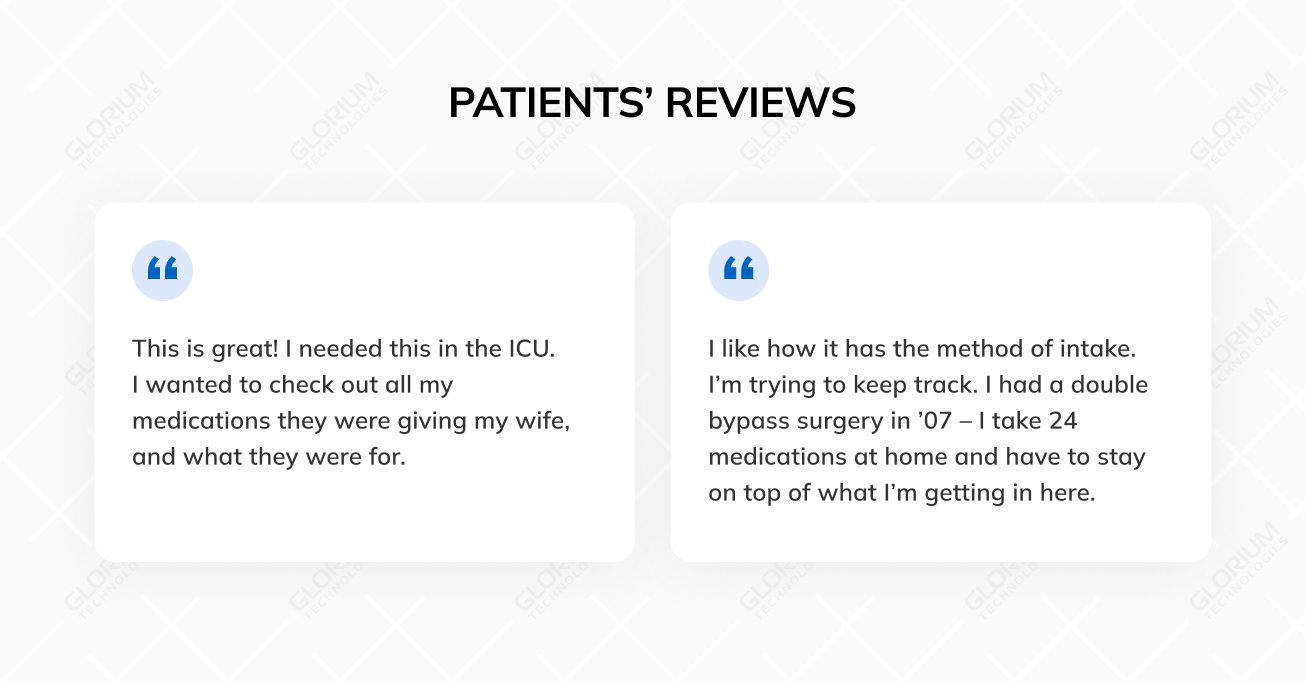 The 2022 research of the automation of hospital drug dispensing systems demonstrated a tangible effect of the significant reduction in error in the dispensing phase and a reduction in the numbers of returned items, breakages, and loss of medications. The same research has recorded a positive reaction from all categories of users, from patients to their relatives and caregivers to physicians.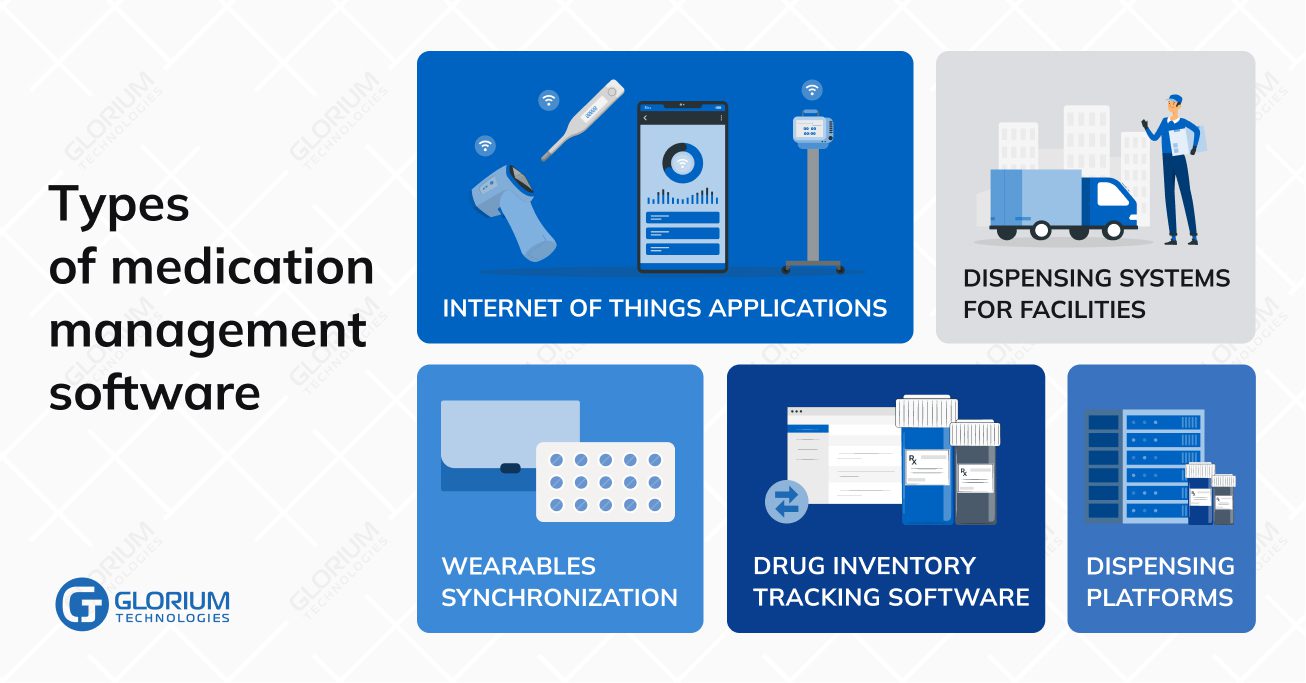 Types of Medication Management Software
Various types of medication management software are available. They include but are not limited to
Wearables Synchronization
Internet of Things Applications
Dispensing Platforms
Drug Inventory Tracking Software
Dispensing Systems for Facilities
Wearables synchronization is a great way to keep track of your medication. You can sync your wearables with your software, and it will help you stay on track. Internet of Things applications can also help by providing reminders to take pills at the right time. Dispensing platforms offer a convenient way to manage medications, helping to guarantee their timely intake and correct dosage. Drug inventory tracking software can help you keep track of inventory levels. Facilities dispensing systems ensure that all the patients take medications as prescribed.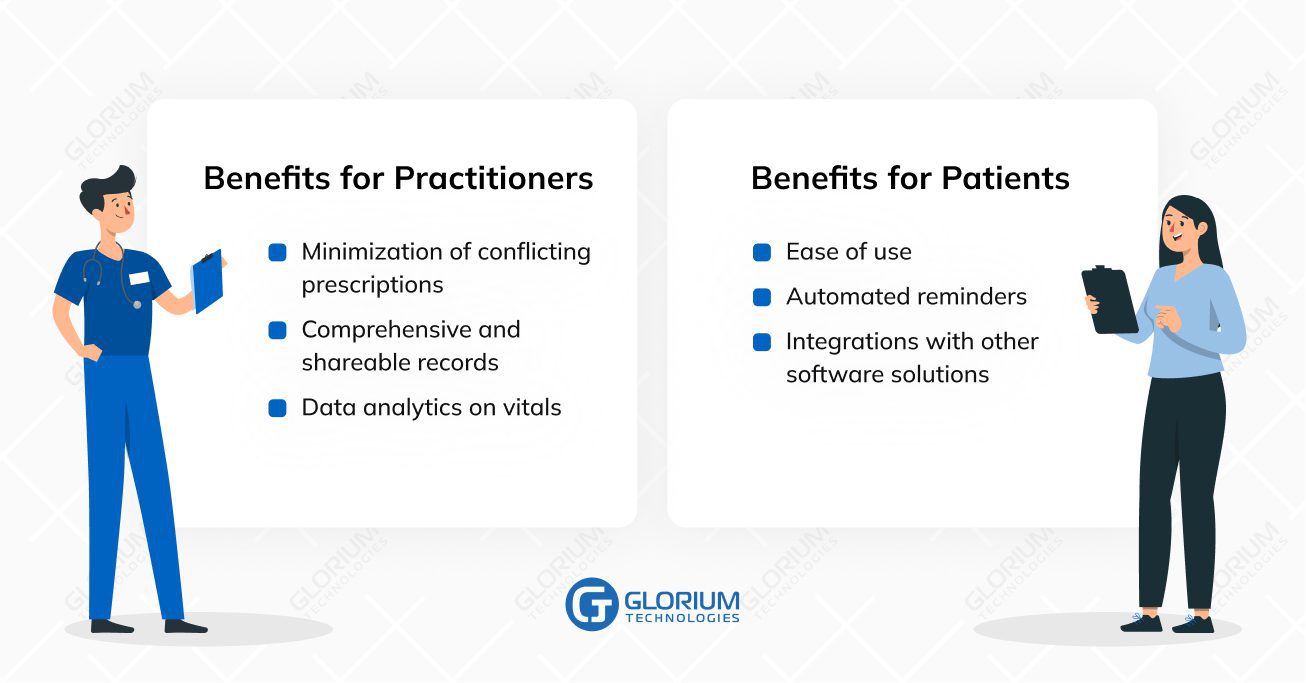 Benefits for Doctors, Nurses, and Hospital Administration
Data Analytics on Vitals
Apart from the standard medication-related component, many medication-tracking solutions offer additional features, such as tracking sugar levels, blood pressure, weight loss, etc. These other features, in many cases, serve as the early warning system for detecting early signs of a new disease, wrong medication intake, etc.
Minimization of Conflicting Prescriptions
Medication tracking software typically contains comprehensive information on previously and currently taken medications and existing allergies.
The system will send alerts if the physician prescribes a drug that might conflict with other medicines. Tracking minimizes the possibility of human error to the very minimum (remember that nearly all doctors are overworking these days).
Comprehensive and Shareable System of Records
Patients switch healthcare providers constantly. They may get a better medical insurance plan with a new employer, move for family or work reasons, or look for a second opinion on their case.
Having the entire history of medical & medication records in one place helps newly assigned doctors understand the whole picture. And thus make the right choice in the prescription of new medicines.
Benefits for Patients and Their Families
Aside from improved communication with patients' healthcare provider, better adherence to their medication schedule, and increased safety, medication tracking apps can help save time and money by eliminating the need to make multiple trips to the pharmacy, as many of them offer refill reminders and automatic refills.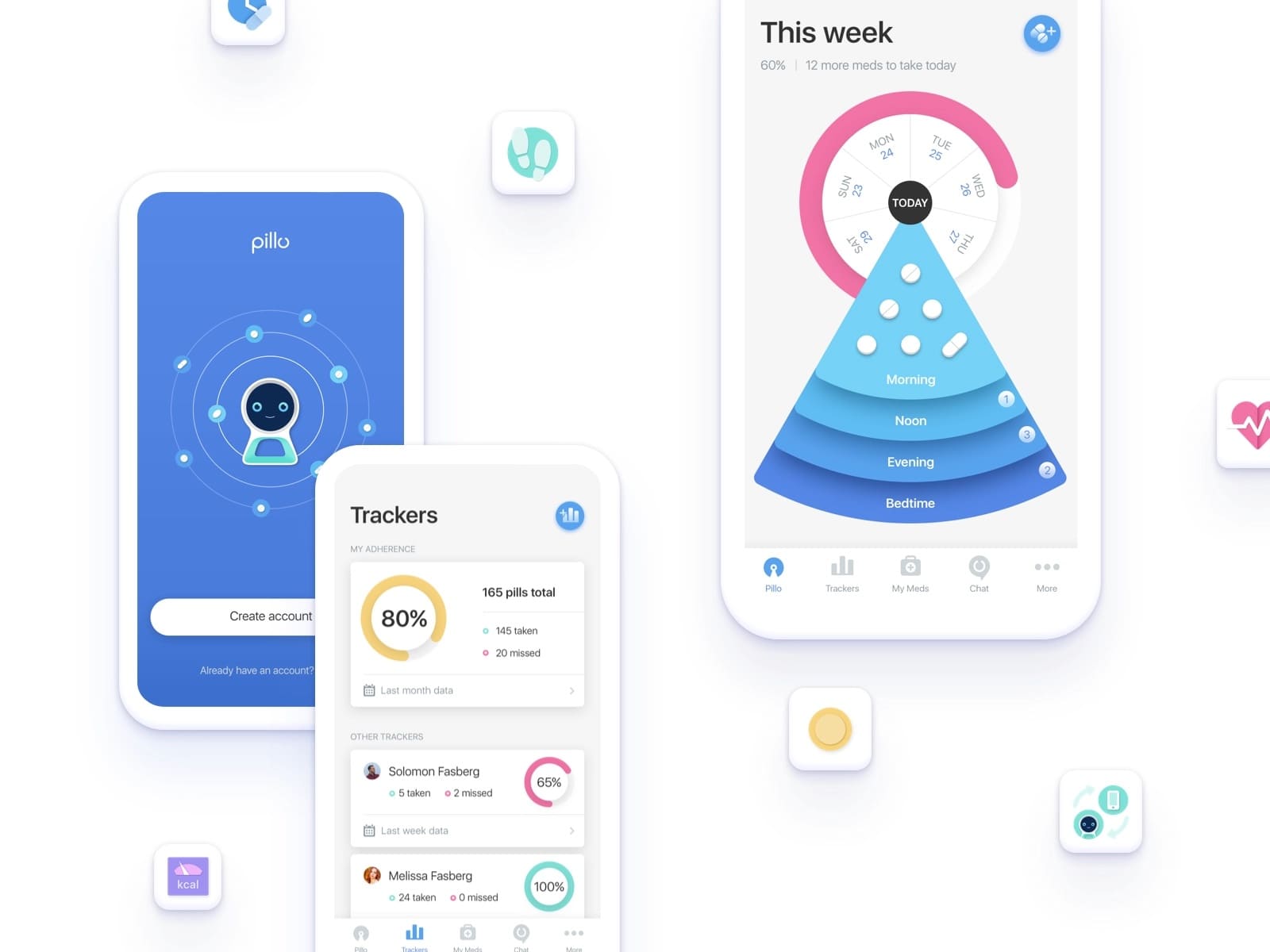 Ease of Use
Despite a serious purpose, a medication tracker looks simple and is usually user-friendly for all age categories. The icons are self-explanatory, and the interface is minimal and not overloaded with extras.
The medication tracker apps are relatively lightweight. They consume little memory on phones and do not require fast Internet.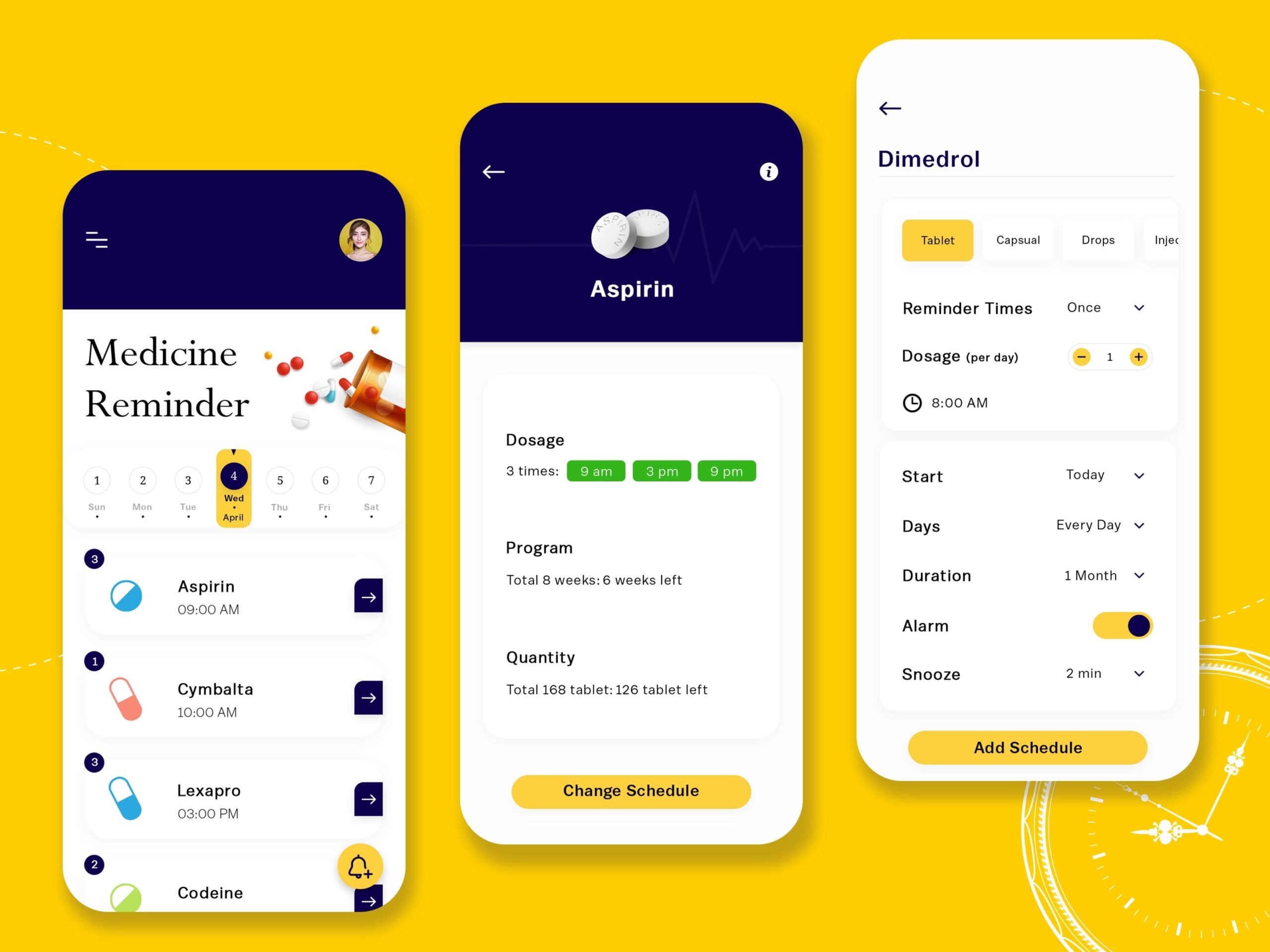 Automated Reminders
Not only people with weak memory need them. Medication trackers give reminders on the daily dose, monthly refills, regular blood tests, etc.
Integrations with Other Software Solutions
For example, medication tracker can use GPS to help patients find a pharmacy nearby, the nearest emergency room, or a lab with the lowest prices for specific tests. They can also integrate with the hospital records system to centralize the data on all patient's treatments.
Must-have Features of the Right Medication Tracker
The best trackers should provide accurate and up-to-date information on medications, including drug interactions and side effects. They should have an intuitive interface that is easy to use, as well as a secure platform to keep your sensitive information safe. Good medication trackers should allow users to track their own health metrics over time, such as vital signs and symptoms. This will help them identify potential issues so they can speak to their doctor accordingly.
Finally, the tracker should sync with other health devices, such as fitness watches, to provide a more comprehensive overview of the user's health.
HIPAA compliance
Personal medical records are subject to stringent regulations. Both the tracker app itself and the third-party integrations it is using must be HIPAA compliant.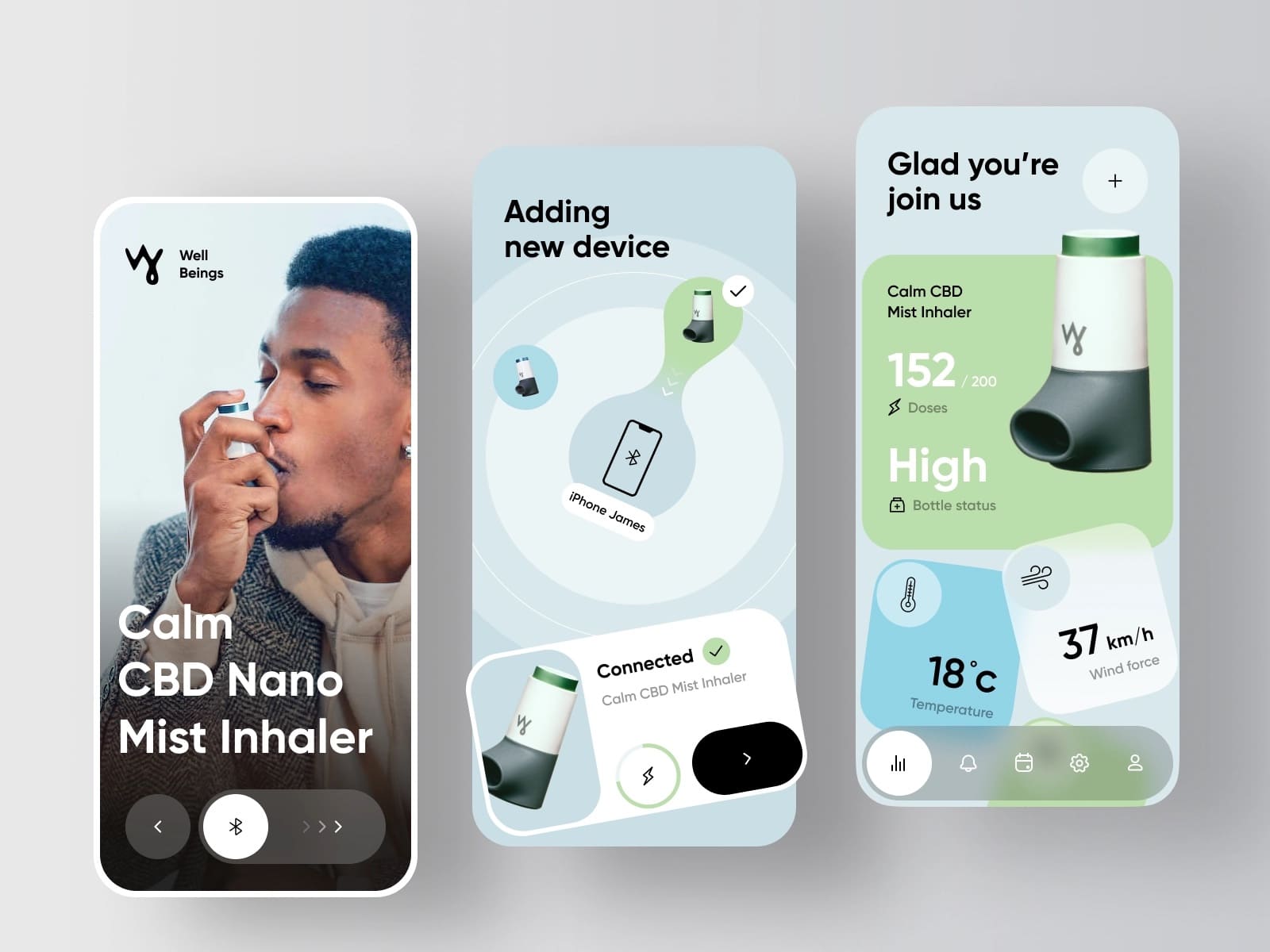 Synchronization across several mobile devices
Synchronization helps relatives and the consulting physician ensure the patient takes all medications as scheduled. The system would also send alerts to the physician, nearest clinic, or next of kin in an emergency.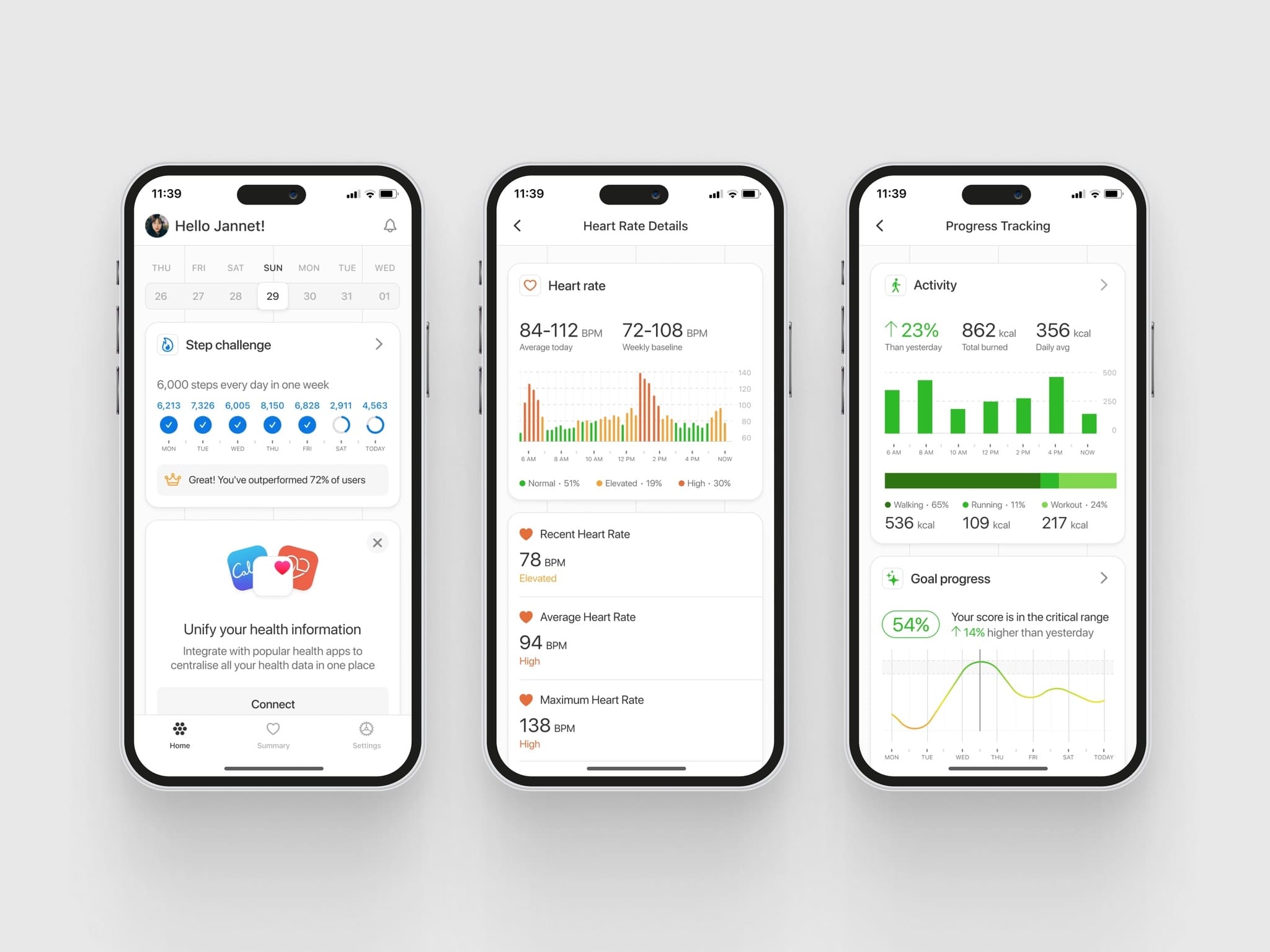 The records system allows at least 2-3 years of history
The impacts of pharma on our bodies are always long-term. We might be changing the third doctor, and the chemical trace from the medication prescribed by the first one is still in our bodies. Having a detailed library of medical records for several years might save one's life.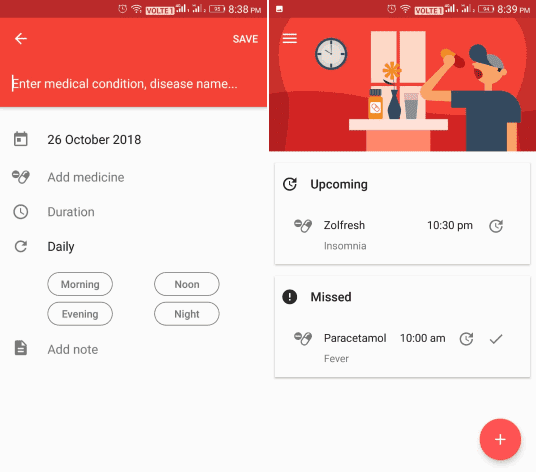 Commenting/Notes feature built-in
This tiny feature is helpful for the doctor and the patients. To be taken with or after food? How many times a day? Where is the nearest pharmacy selling this? Side effects to watch — all this goes into the Comments section.
Availability of a free trial period
Positive reviews, YouTube tutorials, and physician recommendations are helpful, but give it a test drive yourself. The app must be intuitive and convenient for a user from Day 1. Remember that improper use of the app — in this particular case — might lead to medication misuse. And this is one of those mistakes that nobody wants to make.
How to Choose a Medication Management Software Provider?
As of today, the market for medication-tracking software solutions is crowded. The alternatives can speak several languages, offer integrations with other healthcare software solutions, and compete in features and pricing.
How do you make sure you are getting the perfect provider?
When evaluating medication-tracking software solutions, it is crucial to consider the number of users the solution can support. The number of features and functionalities offered and the cost involved are also essential. Then, you'd want to look into the provider's customer service, support, and data security measures.
Despite the interface simplicity, the medication tracker is no fitness tracker. This software solution is supposed to save people's lives and keep them healthy for as long as possible. So, when picking a provider for your medication tracking software development, ensure you get a vendor with other healthcare software solutions in their portfolio.
Lastly, it is vital to assess the provider's level of expertise in the scalability of their solution. By evaluating each provider thoroughly, you can ensure you get the perfect provider for your needs.
Looking for Software Solutions to Build Your Product?
Let's discuss your ideas in our free development acceleration call.
Glorium Technologies is a professional software development lab that has been on the market for over 12 years. We are HIPAA/HITRUST and ISO 13485 certified. As of 2021, over 5Mln patients and physicians are using Glorium's applications for hospital management, telehealth, teleradiology, laboratory systems, and more.
Contact us today if you want a medication tracker or a medication management system designed for specific purposes of your hospital, lab, or medical institution.
Questions You May Have