2023
• Company of the Month in the United States by TechBehemoths • Named in IAOP's 2023 Global Outsourcing 100®️ • Among the Top 300 impact company ranking 2023 by Real Leaders • Listed by TechBehemoths as one of the Award-Winning companies of 2022
2022
• Оne of the Leading Custom Software Developers in New Jersey by Clutch • Glorium's 3rd time in row on the Inc. 5000 list • Microsoft Silver Partner status • 2 new locations: Poland and Cyprus • ISO 27001 certification in Information Security Management System • 200+ team members
2021
• 50+ new team members • 2 years in row in the Inc. 5000 list
2020
• The first mention in the Inc. 5000 list • One of the Fastest-Growing Private Companies in America • Relocation to new office in Kyiv, Ukraine
2019
• Increasing to the 100+ team members • ISO 13485 certification in Medical Devices Management
2018
• 70% annual business growth • The new executive team, after reorganization
2017
• ISO 9001 certification in Quality Management System
2015
• The first mention in rating by team members on DOU. Further keeping the average rate at 90% and upper
2014
• An office opening in Ukraine
2013
• Defining a strategic plan for company development
2010
• Founding a company in New Jersey, USA • Formation of the team key core
The standards we adhere to
The standard ISO/IEC 27001:2013 specifies the requirements for establishing, implementing, maintaining, and continually improving an Information Security Management System as well as assessing and treating information security risks tailored to its needs.
The ISO 9001 certificate confirms that our company has implemented and meets the Quality Management System (QMS) requirements and constantly provides improvements.
Based on the ISO 9001 process model approach, the management systems standard ISO 13485:2016 is specifically developed to manufacture medical devices and confirms the safety of professionals and clients in clinics, hospitals, and other medical institutions.
HIPAA Compliance means that our company implemented all policies and procedures of the HIPAA Security Rule in order to protect the privacy, security, and integrity of Protected Health Information (PHI) as prescribed by the Health Insurance Portability and Accountability Act.
+29%
total team growth rate in 2021
95%
satisfied training requests in 2021
26%
of long-term contracts
The success of one is the success of everyone:
You could be hired to work in software development, as part of our HR team, or as a Business Development Manager. Whatever your role within the company is, it should never separate you from those working in other units.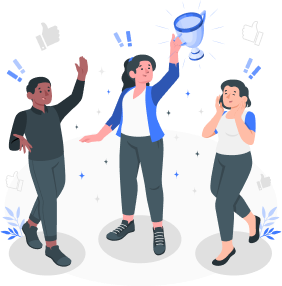 Be honest – professional integrity is an enviable attribute
Be consistent with your words and actions
Be ready to share knowledge, not hoard it – that's how we get powerful
Be open – everyone has access to anyone in the company
Be positive – this kind of attitude is infectious
Creating all-around improvement
Enjoy what works today and improve it
Take on board everything that can encourage you to grow
Go the extra mile to pinpoint and solve problems, implement solutions
Understand that improvement is a trial-and-error method
We are not perfect but eager to use our best judgment
Look for long-term, win-win solutions for customers, Glorium, our team, and ourselves
Make decisions and take actions minding the consequences of our decisions
Continually growing and learning:
Be curious and love to study
Take responsibility for self-improvement
Have a balance in the development of both soft and complex skills
Be brave to take risks to learn something new
We have delivery offices in Ukraine, Poland, Cyprus and the headquarters in the USA. Choose the country and office where you feel comfortable working. We will help with the relocation, and you can also work from anywhere in the world.
New Jersey, USA
100 Overlook Center, 2nd floor, Princeton, NJ 08540 USA
+1-888-354-0883
Kraków, Poland
Wilhelma Feldmana street, No. 4, office 4, 31-130, Krakow, Poland
+48-731-76-02-56
Kyiv, Ukraine
Saksahanskoho street, 121, office 168, Kyiv, 01032, Ukraine
+38-067-719-39-81
Paphos, Cyprus
Onisiforou Court, Νεοφύτου Νικολαίδη 16, 2nd floor, Paphos, Cyprus
+35-796-95-16-60