Training & Development benefits imply: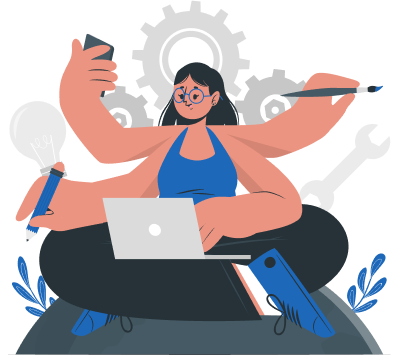 Driving skills and competences
Learning is in our DNA. We aim to pave for our people essential ground to gain new skills and fuel their desire to advance into new roles. Our support means specialized certifications, conferences, deep tech training, workshops, courses and more. Thus, in 2021, the company satisfied 95 % of requests on external training.
We focus on a permanent learning journey, which includes onboarding, professional adaptation, training and development programs, and company case studies.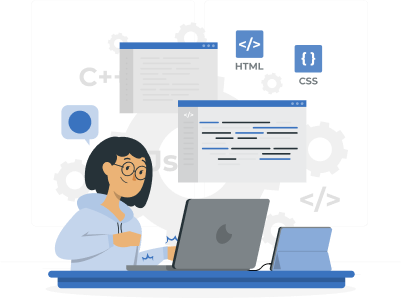 At Glorium, we encourage internal professional meetups to invite our experts to share their best practices. The food for discussion comes from .NET, JS, DevOps, project management, etc. The agenda embraces various fields so that everyone can find something useful. On top of this, you can master public speaking skills.
We are convinced that technical expertise is not enough for professional development. So, we host regular workshops and training on presentation skills, effective verbal and unverbal communication, small talks, professional negotiation techniques, leadership, etc.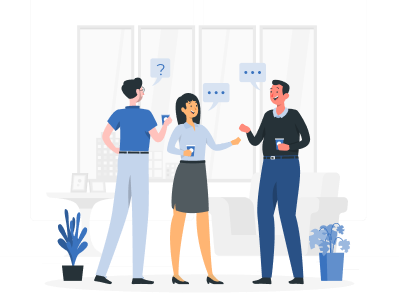 English as a tool of daily communication
We arrange for our employees to attend regular English classes of different levels and forms – group and individual. Our in-house tutor looks to approaching each student individually to fight their fears and unleash their hidden potential.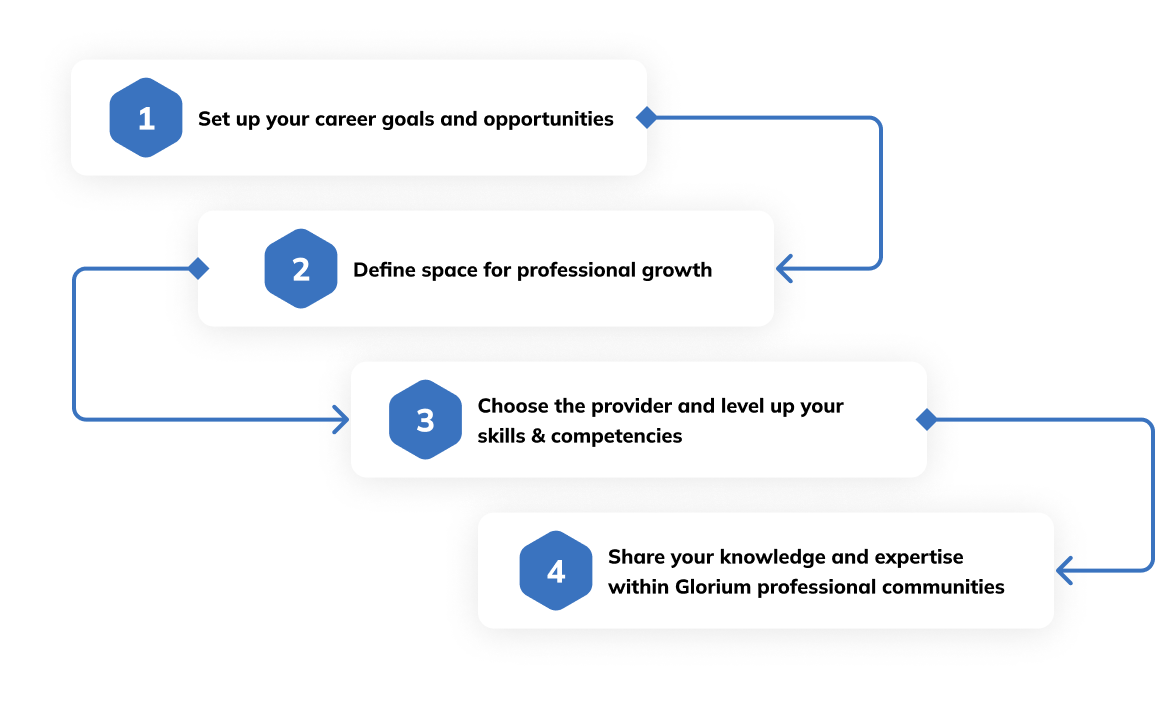 Inspiring career stories in Glorium
The career path with Glorium Technologies promises for its successors inspirational environment intended to boost their skills.
At this point, you'll find out a few unconventional backstories that our guys willingly shared:
I've been working with Glorium since 2017. The company has gone through a lot of changes during these years, and at every stage, there were things I fancied. For now, I am really enjoying the project I'm working on, the modern tech stack user for its realization. I can't omit the fact that I work with great people, real professionals. There is an opportunity to work remotely, my salary review is regular, there are extra benefits with medical insurance and minimum paperwork within the company
I had been working at a bank until I found my career dead-end. So, I changed my occupation. First, I cooperated as a part of the back-office team at Glorium Technologies. I would have never thought that without having extensive tech background or education I could work as a part of the IT community. However, after learning about processes, projects, roles in IT, I came to realize I don't have to write code to be a significant part of our tech team. Our CTO and co-founder Dmitriy Stepanov suggested I try my hand at Quality Assurance. Once this position became available on one of the projects, I took it immediately. I've taken on several roles while working with Glorium and I feel an overwhelming desire to grow, maybe harness QA automation or rather an Angular framework. I know my company will support my endeavors.
I didn't have any IT background when I joined Glorium. I was looking for an entry point to a tech company, and my law degree didn't help much with that. I started in the position of a recruiter. I was urged by our HR generalist to close a very difficult position of C# AQA and managed to do it in a month. That meant I was at the right place! However, recruitment didn't captivate me that much. So, I decided to complete Project management courses and was approved as Project Coordinator for an internal project within the company. I guess it was the 8th month of my work at Glorium. At the beginning, I was jungling between my future role and recruiting, but soon Andrei Kasyanau, the co-founder and CEO at Glorium, admitted I could perform much more while on a tech project. Right now, I'm coordinating 5 really exciting projects and I feel I am no longer exposed to burnouts. I am driven to grow as a PM, every day inspired to be better, and my company fosters my development.
Develop your skills in a team of professionals!