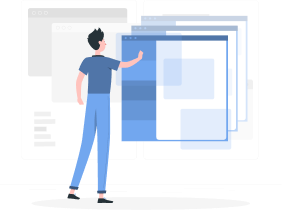 How to submit a referral?
Go to "Refer a friend", fill in the form and get your bonus.
Requirements for a referral:
The candidate must be aware of the vacant position and willing to cooperate with Glorium Technologies.
You cannot recommend yourself, however, you are welcome to check out our job openings.
We accept a referral if the Talent Acquisition Specialist has not contacted the candidate in the last 3 months.
You must be the first person to recommend the candidate for the vacancy (the date and time of the submission will be recorded).
The referred person was already unrecommended by someone else over the last three months.
The candidate is no longer involved in the selection process within the current vacancies.
The referral bonus depends on the candidate's qualification level, but not on the level of the open position.
How you can get your referral bonus
The bonus is given / entitled after the candidate has successfully passed the probation period (If the probation period is prolonged, we'll let you know):

Management and Lead positions – 3 months

Other positions – 2 months
You will be informed about a referral bonus payment by email from the responsible TAS or HR PP Assistant.