Modern trends are changing the vector of the digital industry. Now it is aimed at total cross-platform adaptability of IT solutions of any complexity. Technologies follow the market's requirements, and the industry's flagship is still Java.
Java development language is a dream come true for an enthusiast who wants to create unique, fully-functional digital solutions. The incredible adaptability and scalability of Java-oriented frameworks make the technology the best on the market. You must hire Java app developers if you implement your IT project for most modern devices. Today we will tell you how to do it right.
Java: Simple about Complicated
What is Java? It is a development language that uses an assembler that transforms intuitive code into a standard set of 0 and 1 (machine code). The first versions of the JDK (Java Development Kit) appeared in 1995 and evolved yearly with new functionality. At the time of this publication, the current version is SE 15, released in 2020.
The Java platform is relevant because you can use it to create applications for multiple devices on OS: Windows, Linux, Mac, Android, and iOS. Versatility is peculiar to all implemented digital products on Java because the written code gets executed inside a VM (Virtual Machine). It allows creating of one software version for all platforms, packing the code into native shells.
Java is equipped with an extensive range of tools designed to facilitate the creation, thorough testing, and execution of robust applications across various platforms. This comprehensive software ecosystem has many components, including but not limited to:
Java has enough potential to develop programs of any profile: from small apps for button phones to full-scale ERP systems. This language is one of the most in-demand in the modern IT industry.
What Kinds of Projects Can You Implement in Java?
This language allows you to run several small apps inside one. How does it work? Each element (function) gets executed as an isolated container. Dependencies with other components get set separately. As a result, it allows you to localize each process and better control it.
Due to the native cross-platform nature of the technology, apps written in Java can be deployed in any native environment (via VM). It allows you to use the software on any supported device. Here is why the application of the technology is not limited to types of digital solutions such as:
Java, being an incredibly versatile programming language, finds extensive application in a multitude of domains, making it a popular choice among developers. Some of the areas where Java shines include:
Commerce
Telemedicine
Logistics
Management
Entertainment
Analytics
All IT areas use Java for apps or system development. Global market leaders confirm its leadership.
Industry Flagships: Top Companies Using Java
When discussing global corporations, we tend to imagine complex covert technologies. In practice, these fantasies get shattered by the rigid pragmatism of companies and their IT departments. Everything complicated is simple, as today's best minds — Linus Torvalds, Bill Gates, Mark Zuckerberg, Elon Musk — say. These geniuses developed their products not with some mysterious technologies but in a language that is relatively simple and accessible to every enthusiast. The same applies to corporations that use Java to build their digital solutions.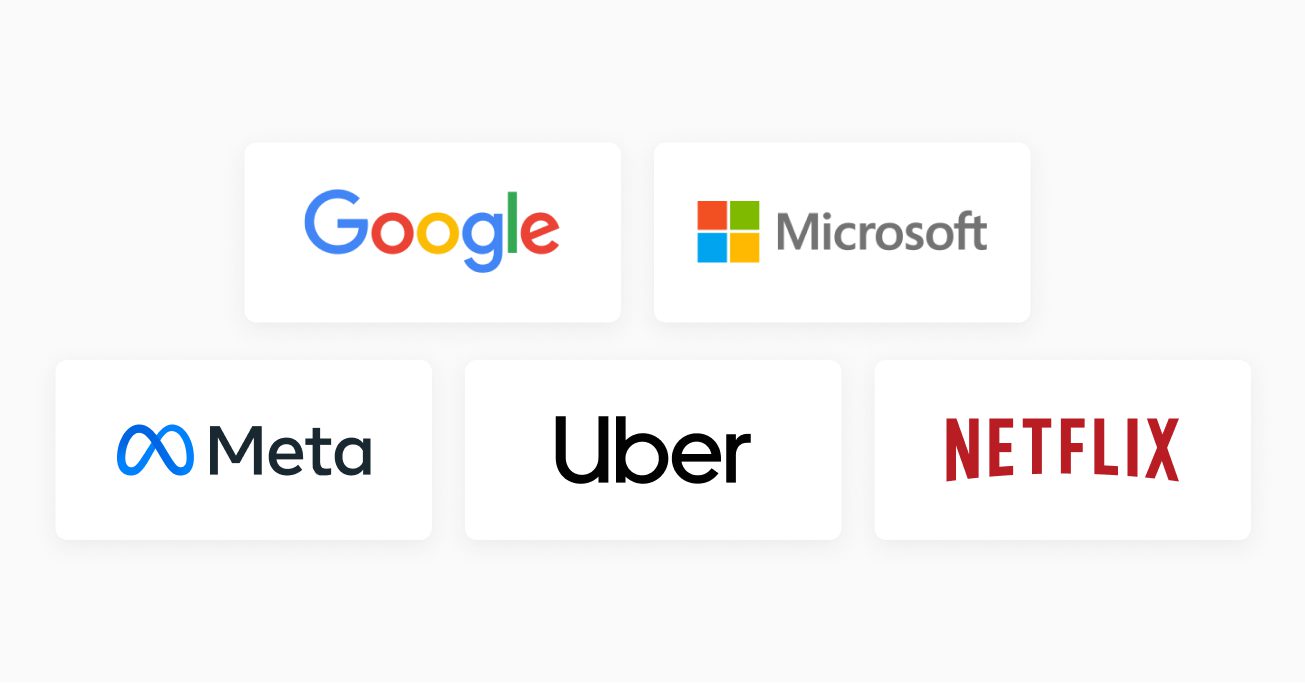 Google: The tech giant uses Java in almost all of its products, such as YouTube and other SaaS solutions. It gives the company the ability to scale platforms and transform them quickly.
Microsoft: Java is used in cloud solutions, partly in embedded OS apps and most modern Microsoft Store products. For example, programs for file processing are based on JVM.
Meta: Facebook, WhatsApp, Instagram – these digital solutions are developed using Java. The technology allows the company to scale products, increasing the stress tolerance of platforms.
Uber: The company's mobile delivery and logistics products are based on Java. Thanks to this, they can withstand a large load of active users and work steadily.
Netflix: Java is used in web-app, mobile solutions, and the cloud, where the full streaming service is based on the technology. The scalability of this language is indispensable for Netflix's stability.
Implementing Java by the key players of the IT industry in digital solutions best demonstrates the popularity of the technology in 2023. Here is why it is worth paying attention to Java when developing consumer or business apps. The more so that hiring Java developers is not a problem now.
We recommend Java to our clients for several reasons. Java is one of the most popular programming languages for developing back-end web applications and has a huge and active developer community that provides support, documentation, and a large selection of libraries and frameworks to speed up development. Also, Java is highly reliable and scalable. It allows the development of complex and distributed systems that can process large amounts of data and withstand high loads.

Anton Kumechko

Project Manager, Glorium Technologies
Our cases