Did you know you can use today's digital solutions for socialization, entertainment, and telemedicine alike?
The practice of private psychologists, who provide their services in comfortable offices, has been winning the world for decades. But only some patients have the time, money, and desire to be physically present at their appointments. For the rest, mental health app development and innovative digital solutions from the field of telemedicine come to the rescue.
To prove it, the global mental health apps market was valued at USD 5.2 billion in 2022 and is expected to expand at a compound annual growth rate (CAGR) of 15.9% from 2023 to 2030. (GrandViewResearch)
Although now the concepts of digital solutions for the mHealth sphere are a bit blurred, we are still focusing on the main categories of the industry: apps to support a person's mental state.
Also, today we will tell you in as much detail as possible about how to make a mental health app and attract and retain an audience.
What Are Mental Health Apps?
If you compare digital mental health solutions and traditional telemedicine products, you will find many differences between the two.
The difference is: In services for users. In functionality. Supported security protocols. Data privacy. In development and support costs. In the purpose of the programs.
According to the , there are between 10,000 and 20,000 mHealth apps of various kinds in the world.
These figures confirm the demand for virtual solutions to help users. Would you like to present your version of the mHealth app to the public? Then read on and find out how to make a mental health app.
What kinds of digital solutions are available in the mhealth segment?
If you cаn only think of yoga or fitness apps as mHealth solutions, we have good news for you — the industry has developed a lot since their times.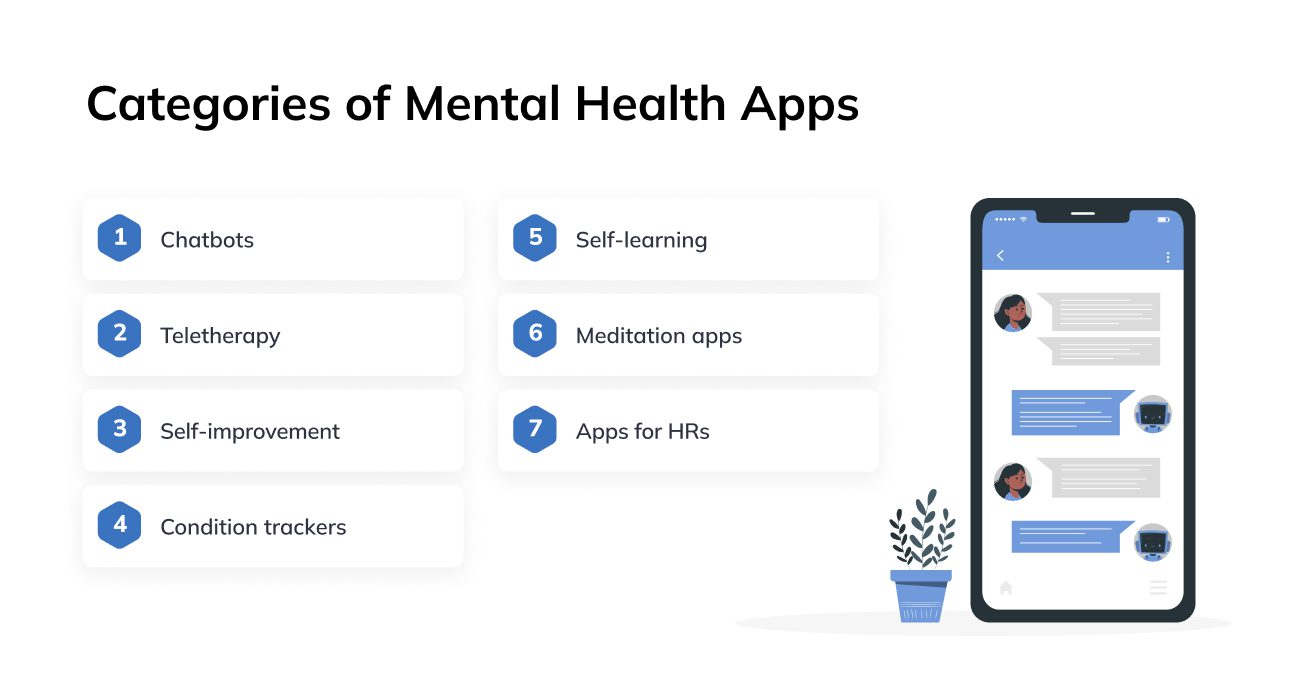 We can highlight at least seven categories of digital mental health products:
Chatbots: automated chats with an algorithm simulating live communication or with direct participation in the conversation of the operator.
Teletherapy: communication with a specialist, such as a psychiatrist or a psychologist, through text, video, or audio messages.
Self-improvement: tips, recommendations, and assignments for self-improvement at home.
Condition trackers: a system tracking mood swings, inner feelings, well-being, etc.
Self-learning: a set of guides, practices, and techniques for analyzing one's inner state and working to improve it.
Meditation: apps that help learn and practice meditations, offering guided tours and convenient tools to pursue this self-care activity.
Apps for HR: special platforms that enable measurement of employees' mental health in corporations.
We researched the market and found that not all types of apps from the segments above benefit the user. So read on and find our advice about how to create a mental health app that would be truly useful.
Top 5 mental health apps on the market
A massive problem in telemedicine is the need for a centralized base with apps and services.
Since not all digital solutions are available on mobile platforms and in-store catalogs, we turned to ORCHA for information about the best products for the mHealth segment.
ORCHA is a one-of-a-kind platform where reliable and proven mHealth apps are collected.
Here are the top 5 current representatives of the mental health technology category by ORCHA:
The mHealth field is very unconventional in terms of digital solutions. Based on our observations, there are still gaps to be filled by creating a mental health app relevant to different conditions.
How to Find Your Product and Market Fit?
According to Grandview Research, the mHealth industry has risen 54.6% in 2 years of the pandemic (2019-2021)
This rise was due to increased interest in remote psychological and psychiatric practices. During total isolation and restrictions, people sought ways to self-develop and stabilize their inner state through meditation, yoga classes, and home study.
The mHealth industry partially covered users' needs with existing digital solutions at the time. But as it turned out, that wasn't enough. Big players quickly figured out this business opportunity and started throwing resources at mental health app development.
So, how to create mental health app? We've compiled a detailed breakdown of all the steps and key points of the app for you! Learn and implement best practices from the mHealth world.
Defining the audience
In mHealth apps, user categories are divided into several standard groups:
7-16 y.o.
17-25 y.o.
26-40 y.o.
41-60 y.o.
60-80 y.o.
Each category needs specific techniques, stimuli, and practice guidelines considering age and physiological needs.
Of course, you can develop a digital solution to cover all categories or choose few of them and scale as needed.
Analyzing competitors' mental health apps
Have you developed your unique psychological methodology? Have you invented an innovative method of self-analysis and work on yourself? If so, feel free to present your achievements and bathe in the golden glory. But if not?
First step in the mental health app development is research. Look at the competitive offers on the market. Pay attention to consumer feedback. In the overwhelming majority of cases, the apps are popular either because of certain features or because of the top-notch UI/UX.
Study the best competitor services and develop your mHealth app concept!
Choose the main features for your health app
You must ensure your app covers 100% of the user's needs. What does that mean?
If you create a mHealth product with content, make sure all the features are available in one system. That means including a social component, chats, a video player, and a built-in web view engine to the product during the mental health app development.
If the user can perform all tasks in one app – they will appreciate the UX of the digital solution. This will bring the product popularity and you, as the idea owner – revenue from marketing, services, and content.
Creating a quick prototype and design
The main goal of mHealth mobile app development is to provide the consumer with a top-notch UX and modern design.
Looking back at the specifics of the industry, we recommend that you stick to such concepts as:
Neutral interface color scheme.
Simple control styles.
Unobtrusive sound design.
This approach to digital design will enhance its performance and provide consumers with the best software experience on the market.
Deciding on technology
When choosing a tech stack for mental health app development, focus on factors such as:
Target platform.
Available budget.
Required functionality.
Support for external modules.
Plans for scalability.
It is easy to get confused in today's abundance of all sorts of technologies. We offer variants of the best frameworks to release mHealth MVPs.
Hire developers to build mental health app
Experienced developers at reasonable rates
Choosing the right mental health app developers
Sounds like it should be easy to hire a mental health app developer, right? But due to the specifics of the mental health industry, only some specialists can accomplish the mission with the most efficiency.
This is due to many challenges in mental health app development, such as following required certifications, standards, and protocols. Privacy protection is essential, as mental health apps directly interact with customers' personal data.
We recommend hiring mental health app development specialists who have already completed at least several projects in healthcare segment. For example, at Glorium Technologies we have our developers trained to follow the HIPAA and other healthcare regualtions .
Outsourcing or In-house Mental Health App Developers?
Today's digital solution development industry is so flexible that it allows you to hire experts under any desired cooperation model. Let's focus on two key types of project work: outsourcing and in-house.
Outsourcing offers entrepreneurs flexibility, adequate deadlines, and competitive prices. This model is great for a one-time project and an ongoing collaboration.
Employing the developers full-time is also a good working relationship model if the company or startup has enough money to recruit and maintain staff.
Where to Hire Mental Health App Developers?
When looking for an experienced team for creating a mental health app, it can be found in two ways:
You can look for companies with relevant experience on recruiting platforms.
Or you can search specifically for experts in the mHealth industry, one by one.
Both options have disadvantages; for example, when picking developers individually, you have to take each one through numerous interviews to ensure they are professional. As for the review boards, company cases may not have the information you need, while reviews can be rigged.
So, where to look for the truth?
The answer is — to contact the candidates' former clients directly to ask all the questions and get an idea of how a particular contractor works and delivers.
Testing Mental Health Apps
When you order a mental health app development service, ensure the product is tested correctly.
More so than other types of digital products, mHealth apps directly depend on UX quality. To make sure user experience is at its peak, developers employ testers to be constantly on the lookout for bugs or mishaps in the app functionality.
This approach gives a better understanding of the product's state and helps predict the development process, as well as calculate product's potential popularity and profitability.
Key Points of Mental Health App Development
In general, creating mHealth solutions is very similar to developing digital products for telemedicine.
What these two fields have in common:
High requirements to security
Secure data processing
Advanced communication
Application interoperability
These key features set up certain challenges for the customers and mHealth app developers. Let's take a closer look at them.
Privacy
Regardless of how much information a user contributes to an app, the developer should take care of protecting all this data. To do this, you can use:
Two-factor authentication
End-to-end encryption
128/256-bit encryption of database keys
Blockchain technology
Castle-and-Moat or Zero Trust security models
Only employing as many of these tools as possible will keep consumer data from leaks and theft and the customer from litigation.
Certification
All apps directly or indirectly related to telemedicine should have protection standards, information exchange, and appropriate certifications. This does not apply to various organizers, meditation instructions, etc.
Typical standards, protocols, and certifications in digital medicine:
Smart on FHIR – protocol for interoperability
HL7 – information exchange standard for health apps
PHI – protected health information
HIPAA – privacy standard
ADA – Americans with Disabilities Act
GDPR – the European equivalent of HIPAA
DPA – the Data Protection Act in the United Kingdom
PIPEDA – GDPR's counterpart for privacy protection
There are other laws, certificates, and information exchange protocols, but the ones listed here are the basis for creating a mental health app that will be certified legally.
Provider base
If you plan to provide consumers with a large range of services, you should determine in advance the potential providers for these.
For example, when working with psychologists, psychiatrists, analysts, coaches, teachers, etc., users should be able to pick their specialist from a decent-sized list.
When creating a mental health app, make sure that database includes all categories of experts from those mHealth industries announced in your application.
Development costs
Be prepared for a significant development budget. The cost of the app depends on several factors, namely:
The cost of hiring mental health app developers
The number and complexity of features
The region of development
The scale of the app
The technologies used
According to the available price lists and case studies from different companies, the average cost of creating a mental health app is $60,000. Note that this is accurate for MVP mental health app development, which includes only basic functionality.
What Mental Issues mHealth Apps Can Help With?
If you are okay with high mental health app development costs and regulation difficulties in mHealth, and ready to invest in this industry, here is our vision of the basic MVP.

All the features we've listed below are found in all telemedicine or mental health support apps in one form or another.
Registration and authorization
User and specialist profiles are the backbones of mHealth industry apps. They determine the trust between the participants in the communication and productivity of the work in general.

Source: SafeHaven
There's why user registration is crucial to provide reliable data and ensure anonymity. This is why it is necessary to allow users to register unnamed accounts and authorize them in the app through existing profiles on Google, Apple, Meta, etc. In either case, it is essential to provide variability of authorization and the ability to hide personal data, even for the specialists, when creating a mental health app.
Separate panels for mental health specialists and users
As for medical applications that connect with EHRs/EMRs, and other personal data processing systems, it is essential to delineate access levels.
What does this mean? The user should be able to view their progress, appointments, tasks, and information about the examiner. The examiner, in turn, should have access to conditional patient data, history, and contacts.
Communication and tracking should be two-way, without the ability to disclose information to third parties as the information about mental health disorders and mental health issues is very sensitive. As for the management system, the functions should focus on establishing contact, operating data, and processing incoming information.
Gamification and rewards to develop a mental health
Using gamification is very popular among mHealth app producers. It includes rewards, statuses, or graphics as rewards for visits, completing tasks, or improving a patient's condition.
Specific elements can range from sets of emojis to frames on avatars, design themes, or bonus points in the profile. Including a competitive element in the app is unnecessary, but if it helps engage users, why not?
It is also essential to add a notification system to the product, focusing users' attention on certain events. These can be meetings, appointments, group trainings or tool updates, such as new meditation techniques.
By keeping users engaged, you stimulate them to take targeted actions. These are usually buying a subscription to a paid service or ordering a personalization package.
Chatbots
Communication in mHealth is often the primary function of the application. Remember about it when create a mental health app. Most users are eager to talk to specialists and want to be listened to.

Source: Hera
Hiring thousands of operators to communicate with users 24/7 is unnecessary. Modern technologies such as AI chatbots can replace live speakers. Advanced algorithms will allow your product to communicate with users and empathize with their problems.
Sharing panels
The social component in mHealth solutions is optional but often plays a vital role in the user's life. Humans are social animals, hungry for communication and seeking domination in the mental arena. That is why allowing users to publish their thoughts, experiences, or achievements in the profile is so important.

Source: MindUp
When planning your mental health app development, check if having a sharing forum or section would make sense to your users.
Communities
Happify is an excellent example of this functionality. Here users can communicate and discuss daily events, which helps to keep the engagement rates high and users involved.

Source: Happify
Communities are also crucial as a productivity tool. Who else but the fellow user can give the best advice to the rookie? Where professionals fail, ordinary people can succeed.
Communities in mHealth are also great for sharing audio and visual content. Sending positive news, pictures, or videos helps to boost user's mood and save your app from getting deleted.
How to Monetize a Mental Health App?
The most apparent and burning question for all entrepreneurs developing mHealth solutions is whether they can effectively monetize their mental health apps.
Good news — this segment is one of the best to generate passive income from mental health applications. Why? All you have to do once a product is released to the market is to structure your solutions and compellingly pitch them.
The mHealth industry offers several monetization options. Let's take a closer look at them.
Premium subscription
Paid access to content is a classic monetization model and probably the most common plan when it comes to make a mental health app.
The advantages of this model are apparent:
Structured and delineated access to content
Variability in prices and packages
Setting the exclusive features
With a paid subscription, users can feel exclusivity by having access to the premium content. The most solvent can buy unlimited access to have the most return on their investment from the app.
Paid features
In today's digital industry, there is a concept of freemium, which means free access to all the key sections of the service, except for the "elite."
This means that while users are equal, the ones with the paid access will receive content updates immediately, and others only after a month. The same applies to the functionality — while free access allows, say, one test per day, paid access gives unlimited tries.
Marketing offers
The third monetization option is the most annoying but very effective. Instead of paid features or premium subscriptions, you give users all the content for free. In return, you show them dozens or even hundreds of banners, videos, and ads.
If users do not want to be constantly distracted by ads, they can still pay a premium and get content without annoying ads.
Trial period
Whichever monetization model you choose, make sure to give users at least a 7-day trial period. This helps to:
Increase consumer interest in the service.
Involvement of users in the content of the resource.
Increase the level of trust in the developers (publisher).
This approach will interest TA and keep them in, imposing paid features or a premium subscription in the future.
How to Develop an MVP?
Bringing a product to market and attracting your first customers becomes the starting point for expanding your business's services, functionality, or scope. But to get it there, you must create the MVP, or minimum viable product. This simplified version has basic functionality.
Step by step, here is how to make it:
Define your target audience: Determine the specific group of users who will benefit from your mental health app. Identify their demographics, needs, and pain points.
Conduct market research: Explore existing mental health apps to understand their features, strengths, and weaknesses. Analyze user reviews and gather insights into what users appreciate and what they find lacking.
Outline core features: Identify the essential features that address the primary pain points of your target audience. Focus on features that will provide immediate value and differentiate your app.
Prioritize features: Once you have a list of potential features, consider the impact each feature will have on users and the technical complexity involved in implementing them. Prioritize a minimal set of features that can deliver value quickly.
Create wireframes or prototypes: Develop basic wireframes or interactive prototypes to visualize the user interface and flow of your app. Use tools like Sketch, Figma, or InVision to create these visual representations.
Validate your concept: Gather feedback from your target audience and potential users on your wireframes or prototypes. Conduct user interviews, surveys, or usability tests. This feedback will help you iterate on your MVP.
Develop the MVP: Focus on creating a functional version of your app with the core features identified earlier. Keep the design simple and user-friendly. Consider using a cross-platform development framework like React Native or Flutter to save development time and effort.
Test and iterate: Continuously test MVP with real users to gather feedback and identify areas for improvement. Conduct usability tests, monitor user interactions, and collect feedback through analytics and user feedback mechanisms.
Polish and optimize: Once the core functionality is in place, refine the design, performance, and stability of your app. Optimize the app for speed and responsiveness to provide a seamless user experience.
Mental health app development from the planning phase implies that the MVP will gradually transform into a cross-platform adaptive digital solution in case of success. And ideally, it should be fit to perform in international markets.
Our Expertise
In an era where global concern for mental health has reached unprecedented levels, Glorium Technologies has risen to the challenge with its expertise in mental health app development.
The COVID pandemic has only intensified the stress and emotional strain faced by individuals worldwide. We recognize the urgent need for accessible and effective solutions to address these concerns, making the mental health app development market not only popular but also incredibly high in demand.
We believe in the efficiency of smartphone interventions, offering easy access to a plethora of applications that assist in treatment, alleviate isolation, and provide crucial support to end-users. Our team is dedicated to crafting innovative solutions, including mood monitoring apps, eating disorder trackers, depression and anxiety monitors, meditation applications, and stress and anxiety control apps.
Check out our Thought Technology use case to learn how our team developed a mobile application for Android and iOS devices that seamlessly integrate with hardware through BLE protocol. We also created a self-regulation screen that incentivizes performers to stay engaged and achieve their personal best during training sessions.
With a decade of experience in inventing digital solutions, Glorium Technologies is committed to helping startups and SMBs excel in their markets by delivering cutting-edge mental health apps that cater to the well-being of countless individuals.
To Summarize
Mental health app development is a complex and unique process. Its proper organization and setup will determine the popularity of the app and its position in the market. And since today's market is not yet oversaturated with mental health services and app offerings, now is the best time to release your digital solution.
You are in the right place if you need a reliable partner in healthcare app development.
We can help you make the most incredible ideas into astonishing innovative products. Contact our manager and experience all the benefits of our expert approach to mHealth app development.
Questions You May Have